Guillermo D. Olmo, BBC: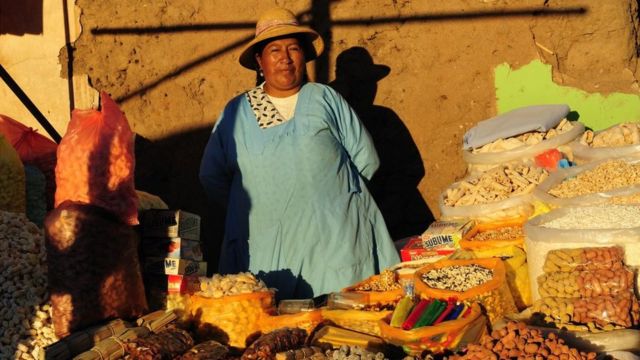 The world economy is shaken by the wave of global inflation.
The war in Ukraine and the stimuli with which governments responded to the blow of the pandemic have pushed the increase in prices to levels not seen for decades.
In Latin America, the impact of the rise is especially painful.
According to a recent report by the International Monetary Fund (IMF), "for a region with historically high levels of inequality, the erosion of real incomes due to rising food and energy costs will add to the economic pressure that vulnerable households are already coping.
The problem is such that inflation in the five largest Latin American economies has reached its highest level in the last 15 years.
But one South American country has so far been able to escape.
This is Bolivia, where the Consumer Price Index (CPI) has remained surprisingly stable. When the curves of its neighbors and half the world shot up, Bolivia even recorded a drop in prices of 0.1% from February to March of this year.
While year-on-year inflation in Bolivia stood at a meager 0.77% in March, the IMF estimates that it will be around 10% for the entire region at the end of the year and the main economies of the region suffer from much more pronounced increases:
Brasil 11,3%
Chile 9,4%
Colombia 8,5%
México 7,4%
Uruguay 9,4%
Neighboring Peru (6.8%) and Ecuador (2.6%) were also affected to a greater extent. And the stratospheric figures for Venezuela (284.4%) and Argentina (55%) are far from those of Bolivia.
"It is very difficult to explain that Bolivia has such low inflation at this time," Roberto Laserna, director of the Center for the Study of Economic and Social Reality (Ceres), an analysis center based in La Paz, told BBC Mundo.
But there are several causes.
A strong boliviano
Contrary to what happens with the currencies of neighboring countries, which are sometimes subject to strong variations in the exchange rate, the national currency of Bolivia has a fixed exchange rate with respect to the US dollar set by the socialist government of Evo Morales a few years ago. and more than 10 years (US$1 = 6.96 bolivianos).
While other countries in the region had to implement exchange control mechanisms to support their currency and there were large differences between the official exchange rate and the true price of the US currency on the street, in Bolivia you can buy and sell dollars freely, and the exchange rate has been maintained thanks to the fact that the government maintains it by injecting dollars from its reserves into the market.
Hugo Siles, economist and Minister of Autonomies with Morales, told BBC Mundo that "the immense resources obtained from the nationalization of hydrocarbons by former President Morales allowed him to follow a policy of appreciation of the Bolivian that has contributed to low inflation."
The government of current President Luis Arce has maintained Morales' policies to strengthen the boliviano, whose relative strength against the currencies of neighbors such as Argentina reduces the cost for Bolivia to import goods.
In the current context of booming food and oil prices on international markets, a strong currency is particularly advantageous.
In addition, as José Luis Hevia, a researcher at the Fundación Milenio, points out, "well-anchored expectations regarding the exchange rate have made people trust the national currency", another factor that favors price stability
Export subsidies and restrictions
Producers and consumers around the world are being hit by rising fuel and food prices.
Bolivians have not felt that blow so far.
In their country, the price of gasoline remains stable at around US$0.50 per liter and items in the basic basket have not experienced large increases either.
Experts point to generous government subsidies as the cause.
Despite the fact that oil costs continue to skyrocket in international markets, the state monopoly that distributes gasoline in Bolivia has fully absorbed this impact by not altering its subsidized price.
Consequently, agricultural producers have not been pushed to pass on to final consumers the increase in their production costs derived from the rise in fuel prices, as has happened in other countries.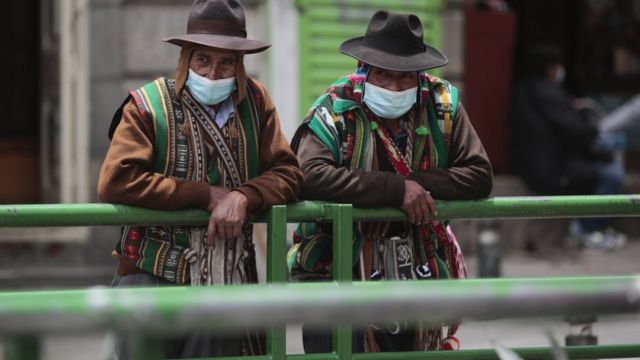 The country also has mechanisms that help contain inflation in the food sector, such as the Food Production Support Company (Emapa), a state company that provides financial support to agricultural producers, and the Food Security Revolving Fund, which imports food charged to public accounts and distributes it on the market to keep prices down.
In one of its latest actions, the Fund injected 10,000 tons of wheat flour into the market to prevent a rise in the price of bread.
Lian Lin, an analyst with the Intelligence Unit of the weekly "The Economist", assures that "these things keep food inflation low and that means a large part of the total of the Consumer Price Index".
Another brake on the rise in prices implemented by the government are the export certificates that are required for all products sold abroad.
When their supply in Bolivia at a price that the authorities consider fair is not guaranteed, they can deny the certificate to export, thus forcing an increase in supply in the domestic market that also alleviates inflationary pressures.
How long can it last
The key question is how long Bolivia will continue to benefit from exceptional price stability in a world in which inflation has become the main enemy of central banks and one of the main concerns of the population.
José Luis Hevia predicts that this year there will be "an increase in inflation due to what is happening in the international context, but it will be relatively moderate."
"But everything will depend on how long the current model can be sustained," adds the expert.
And it is that many economists warn of the adverse effects of the Bolivian government's subsidy policy and doubts grow about the sustainability of public accounts.
A recent World Bank report estimates that Bolivian public debt will approach 80% of Gross Domestic Product (GDP) by the end of 2022, more than ten percentage points above the regional average.
The Ministry of Economy and Finance responded with a statement in which it assured that the ratio of public debt to GDP stood at 43.6% in February, "below the limits established as recommended."
The Executive also accused the "explosive increase in the internal debt registered in 2020" to the interim government presided over by Jeanine Áñez, the leader who assumed power after the fall of Evo Morales and today is in prison accused of terrorism, sedition and conspiracy.
Hevia indicates that "the fixed exchange rate has been very effective in controlling inflation, but it has unwanted effects on the economy because it discourages local production by making imports cheaper and requires a large cushion of external resources to sustain it".
And that use of resources to support the national currency has long been seen in a notable increase in the fiscal deficit and a sustained decline in the international reserves of the Central Bank of Bolivia.
Until 2015, Bolivia accumulated income mainly from gas exports and there were up to US$15,000 million in the reserves of the Central Bank. But that figure has been falling and in December 2021 it was US$4,752 million.
With a fiscal deficit that, according to Central Bank projections, will close the year at 8.5% of GDP, it is worrying that the country will continue to consume its reserves to pay for the subsidies that keep prices under control and that are estimated to cost to the State around US$4,000 million each year.
There are other factors of concern. Roberto Laserna, from Ceres, affirms that "the nationalization of hydrocarbons generated a large volume of resources in the short term, but in the medium term it discouraged foreign investment."
This has resulted in years of falling gas production and Bolivia has been unable to meet some of the supply commitments made with neighboring Argentina, with which new agreements are being negotiated.
Former Minister Siles sees no reason for concern. "Bolivia sells gas, electricity and raw materials such as soybeans or minerals, whose price on the international market is also rising, which will bring in more foreign exchange."
And he predicts: "The government is not going to eliminate subsidies or alter the exchange rate because that would mean transferring the burden to the vast majority of the population."
Not everyone is convinced.
Lian Lin believes that "Bolivia will still enjoy some tailwind time from the price of gas but in the future the exchange rate will have to be lowered a little at least and there will be some kind of gradual devaluation and cuts in government programs."
Time will tell which forecast is correct.
At the moment, the last issue of Bolivian debt last February was placed at an interest rate of 7%, an increase in the required return on bonds that is usually associated with lower investor confidence and that highlights the greater difficulty that the Bolivian State now finds to finance itself.
La economía mundial vive conmocionada por la ola de inflación global.
La guerra de Ucrania y los estímulos con los que los gobiernos respondieron al golpe de la pandemia han llevado el aumento de los precios a niveles que no se veían hace décadas.
En América Latina, el impacto de la subida es especialmente doloroso.
Según un informe reciente del Fondo Monetario Internacional (FMI), "para una región con unos niveles históricamente altos de desigualdad, la erosión de los ingresos reales debido al aumento del costo de los alimentos y la energía se sumará a la presión económica a la que ya hacen frente los hogares vulnerables".
El problema es tal que la inflación en las cinco mayores economías latinoamericanas ha llegado a su récord de los últimos 15 años.
Pero un país sudamericano ha podido hasta ahora librarse.
Se trata de Bolivia, donde el Índice de Precios al Consumidor (IPC) se ha mantenido sorprendentemente estable. Cuandolas curvas de sus vecinos y de medio mundo se disparaban al alza, Bolivia llegó incluso a registrar una bajada de los precios del 0,1% de febrero a marzo de este año.
Mientras la inflación interanual se quedó en Bolivia en un magro 0,77% en marzo, el FMI estima que rondará el 10% para toda la región a final de año y las principales economías de la región se resienten por aumentos mucho más pronunciados:
Brasil 11,3%
Chile 9,4%
Colombia 8,5%
México 7,4%
Uruguay 9,4%
El vecino Perú (6,8%) y Ecuador (2,6%) también se vieron afectados en mayor medida. Y las estratosféricas cifras de Venezuela (284,4%) y Argentina (55%) quedan muy lejos de las de Bolivia.
"Es muy difícil de explicar que Bolivia tenga una inflación tan baja en este momento", le dijo a BBC Mundo Roberto Laserna, director del Centro de Estudios de la Realidad Económica y Social (Ceres), un centro de análisis con sede en La Paz.
Pero son varias las causas.
Un boliviano fuerte
Al contrario de lo que sucede con las monedas de los países vecinos, sujetas a veces a fuertes variaciones en el tipo de cambio, la moneda nacional de Bolivia tiene un tipo de cambio fijo respecto al dólar estadounidense fijado por el gobierno socialista de Evo Morales hace ya más de 10 años (US$1 = 6,96 bolivianos).
Mientras otros países de la región tuvieron que implantar mecanismos de control de cambios para sostener su moneda y hubo grandes divergencias entre el tipo de cambio oficial y el verdadero precio de la divisa estadounidense en la calle, en Bolivia se puede comprar y vender dólares libremente, y el tipo de cambio se ha mantenido gracias a que el gobierno lo sostiene inyectando en el mercado dólares de sus reservas.
Hugo Siles, economista y ministro de Autonomías con Morales, le dijo a BBC Mundo que "los inmensos recursos obtenidos a partir de la nacionalización de los hidrocarburos del expresidente Morales permitieron seguir una política de apreciación del boliviano que ha contribuido a la baja inflación".
El gobierno del actual presidente Luis Arce ha mantenido las políticas de Morales para robustecer al boliviano, cuya relativa fortaleza frente a las monedas de vecinos como Argentina reduce el coste para Bolivia de importar mercancías.
En el contexto actual de auge de los precios de los alimentos y del petróleo en los mercados internacionales una moneda fuerte resulta especialmente ventajosa.
Además, como señala José Luis Hevia, investigador de la Fundación Milenio, "las expectativas bien ancladas en torno al tipo de cambio han hecho que la gente tenga confianza en la moneda nacional", otro factor que favorece la estabilidad de los precios
Subsidios y restricciones a las exportaciones
Productores y consumidores en todo el mundo se ven golpeados por el aumento de los precios de los combustibles y los alimentos.
Los bolivianos no han sentido hasta ahora ese golpe.
En su país el precio de la gasolina se mantiene estable en torno a los US$0,50 por litro y los artículos de la canasta básica tampoco han experimentado grandes incrementos.
Los expertos apuntan a los generosos subsidios del gobierno como causa.
Pese a que los costes del petróleo siguen disparados en los mercados internacionales, el monopolio estatal que distribuye la gasolina en Bolivia ha absorbido totalmente ese impacto al no alterar su precio subsidiado.
En consecuencia, los productores agrarios no se han visto empujados a trasladar a los consumidores finales el aumento de sus costes de producción derivado de la subida de los combustibles, como sí ha sucedido en otros países.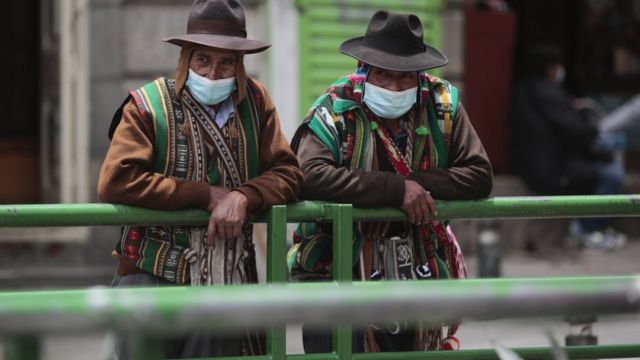 El país también cuenta con mecanismos que ayudan a contener la inflación en el rubro alimentario, como la Empresa de Apoyo a la Producción de Alimentos (Emapa), una compañía estatal que brinda apoyo financiero a los productores agropecuarios, y el Fondo Rotatorio de Seguridad Alimentaria, que importa alimentos con cargo a las cuentas públicas y los distribuye en el mercado para mantener los precios a la baja.
En una de sus últimas acciones, el Fondo inyectó 10.000 toneladas de harina de trigo en el mercado para evitar una subida del precio del pan.
Lian Lin, analista de la Unidad de Inteligencia del semanario "The Economist", asegura que "estas cosas mantienen baja la inflación de los alimentos y eso significa una gran parte del total del Índice de Precios al Consumidor".
Otro freno a la subida de los precios implantado por el gobierno son los certificados de exportación que se exigen a todos los productos que se venden en el exterior.
Cuando su abastecimiento en Bolivia a un precio que las autoridades consideran justo no está garantizado, pueden negar el certificado para exportar, forzando así un aumento de la oferta en el mercado interno que también alivia las presiones inflacionarias.
Cuánto puede durar
La pregunta clave es por cuánto tiempo seguirá Bolivia beneficiándose de una excepcional estabilidad en los precios en un mundo en el que la inflación se ha convertido en el principal enemigo de los bancos centrales y una de las principales mayores preocupaciones de la población.
José Luis Hevia pronostica que ya este año se sentirá "un aumento de la inflación por lo que está pasando en el contexto internacional, pero será relativamente moderada".
"Pero todo dependerá de por cuánto tiempo se pueda sostener el modelo actual", añade el experto.
Y es que muchos economistas advierten de los efectos adversos de la política de subsidios del gobierno boliviano y crecen las dudas sobre la sostenibilidad de las cuentas públicas.
Un reciente informe del Banco Mundial estima que la deuda pública boliviana se acercará al 80% del Producto Interno Bruto (PIB) a finales de 2022, más de diez puntos porcentuales por encima de la media regional.
El Ministerio de Economía y Finanzas respondió con un comunicado en el que aseguró que el ratio de deuda pública sobre el PIB se situó en febrero en un 43,6%, "por debajo de los límites establecidos como recomendables".
El Ejecutivo también acusó del "explosivo incremento de la deuda interna registrado en 2020" al gobierno interino que presidió Jeanine Áñez, la dirigente que asumió el poder tras la caída de Evo Morales y hoy se encuentra en prisión acusada de terrorismo, sedición y conspiración.
Hevia indica que "el tipo de cambio fijo ha sido muy eficaz a la hora de controlar la inflación, pero tiene efectos no deseados en la economía porque desincentiva la producción local al abaratar las importaciones y requiere de un gran colchón de recursos externos para sostenerlo".
Y ese empleo de recursos en respaldar la moneda nacional se percibe hace tiempo en un notable incremento del déficit fiscal y una merma sostenida de las reservas internacionales del Banco Central de Bolivia.
Hasta 2015 Bolivia acumuló ingresos procedentes principalmente de las exportaciones de gas y llegó a haber hasta US$15.000 millones en las reservas del Banco Central. Pero esa cifra ha ido cayendo y en diciembre de 2021 eran US$4.752 millones.
Con un déficit fiscal que, según las proyecciones del Banco Central, cerrará el año en un 8,5% del PIB, preocupa que el país siga consumiendo sus reservas para costear los subsidios que mantienen los precios bajo control y que se estima que le cuestan al Estado alrededor de US$4.000 millones cada año.
Hay otros factores de preocupación. Roberto Laserna, de Ceres, afirma que "la nacionalización de los hidrocarburos generó un gran volumen de recursos a corto plazo, pero a medio plazo desincentivó la inversión extranjera".
Esto se ha traducido en años de caída de la producción de gas y Bolivia se ha visto incapaz de cumplir algunos de los compromisos de suministro adquiridos con la vecina Argentina, con la que se negocian nuevos acuerdos.
El exministro Siles no ve motivos para la preocupación. "Bolivia vende gas, electricidad y materias primas como la soya o los minerales, cuyo precio en el mercado internacional también está subiendo, lo que va a aportar mayores divisas".
Y vaticina: "El gobierno no va a eliminar las subvenciones ni alterar el tipo de cambio porque eso significaría trasladar la carga a la gran mayoría de la población".
No todos están convencidos.
Lian Lin cree que " Bolivia aún disfrutará algún tiempo de viento de cola por el precio del gas pero en el futuro el tipo de cambio tendrá que rebajarse un poco al menos y habrá algún tipo de devaluación gradual y recortes en los programas del gobierno".
El tiempo dirá qué pronóstico es el correcto.
De momento, la última emisión de deuda boliviana el pasado febrero se colocó a una tasa de interés del 7%, un aumento en la rentabilidad exigida a los bonos que suele asociarse a una menor confianza de los inversores y que pone de manifiesto la mayor dificultad que ahora encuentra el Estado boliviano para financiarse.