BBC:
(Image credit: agefotostock/Alamy)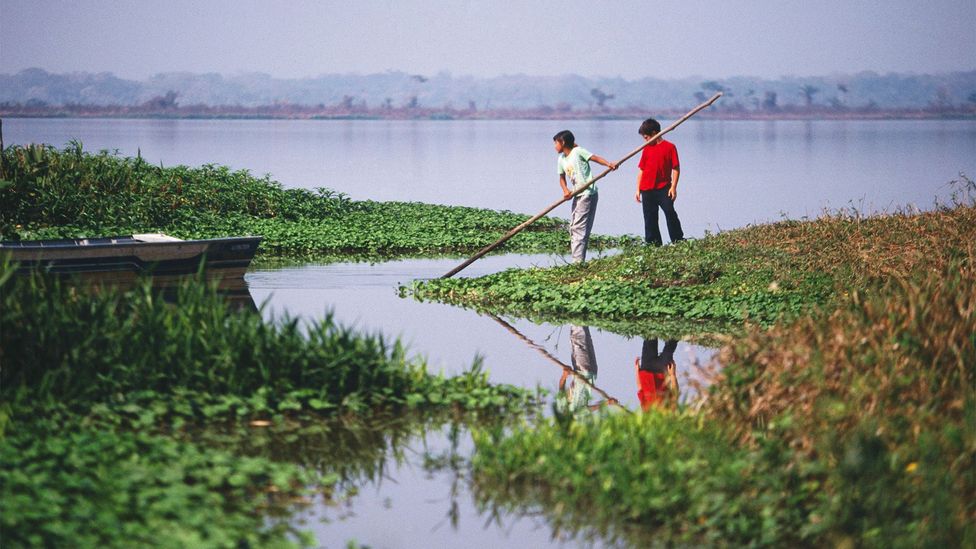 Dating back millennia and covering hundreds of square kilometres, these little-known ruins are changing perceptions of the Amazon and its ancient inhabitants.
In a stretch of the Bolivian Amazon known as the Llanos de Moxos, the sultry port of Loma Suárez takes its name from a notorious rubber baron who built a mansion and ranch beside a loma (hill) overlooking the Ibare River. During the late 19th and early 20th Centuries, Nicolás Suárez and his brothers were among the richest – and most ruthless – people in Bolivia, ruling over a vast swathe of the Amazon Basin with terrifying violence, according to my guide Lyliam González. "They owned everything around here," she said.
The eponymous hill is now topped with a mausoleum for one of the brothers, Rómulo – but I was more interested in the grassy mound itself. Around 10m in height, with a dirt path and a cluster of trees at the base, it appeared natural and nondescript. Yet it is actually man-made, one of thousands of earthworks built by remarkable but little-known ancient societies.
The Amazon prior to the arrival of Europeans in the Americas in 1492 is commonly depicted as a pristine wilderness dotted with small, simple communities. The Llanos de Moxos (or "Mojos") elegantly rebuts this notion. Spanning 120,000 sq km of tropical savannah, rainforest and snaking waterways in north-east Bolivia, the region – which is roughly the size of England – has been inhabited for 10,000 years, initially by hunter-gatherer communities. Around 1000 BCE, more complex societies started to develop.
In response to the highly challenging environment – including dramatic seasonal floods – these people built networks of earthwork structures: hills; elevated residential and ceremonial platforms; raised fields to protect against rising water levels; plus causeways, canals, aqueducts and reservoirs. Pioneering US archaeologist Kenneth Lee – who first visited the region in the 1950s while working for Shell and ended up dedicating his life to the study of the earthworks (a museum in the nearby city of Trinidad, the Museo Etnoarqueológico Kenneth Lee, now bears his name) – estimated there were as many as 20,000 earthworks, with the largest villages home to 2,000 people or more.
Loma Suárez is one of thousands of earthworks built by the ancient societies of the Llanos de Moxos (Credit: Shafik Meghji)
Unlike the Inca or Maya, there's no single name for the ancient earthwork-builders of the Llanos de Moxos. The few academics who study them tend to use awkward collective terms, such as "pre-Hispanic" or "pre-Columbian", while individual groups – such as the Baures or Casarabe cultures – have been named after modern-day villages or towns.
But in recent decades the earthwork-builders have come under greater study by archaeologists, whose findings have transformed our understanding of the Amazon. Recent research suggests that for more than 2,000 years, the Llanos de Moxos was home to far more people – perhaps as many as a million – and far more sophisticated societies than previously thought. Despite lacking vital resources such as local sources of stone and domesticated animals, these societies completely reshaped their surroundings, building an array of earthwork structures for homes, agriculture, religious ceremonies and burial grounds that enabled them to thrive in a landscape that even today can prove highly testing.
This construction work involved the "mass movement of soils, transformation of local topography, soil enrichment, and change in vegetation composition", according to University of Pennsylvania archaeologist Clark L Erickson in his research paper Amazonia: The Historical Archaeology of a Domesticated Landscape. Artificial canals and causeways provided transport and communication links, helping to not only mitigate the damage from seasonal floods but actively manage the water levels. Lagoons and weirs were created to aid fishing, while other earthwork formations were designed to drive wild animals on to designated patches of dry land, where they could be more easily hunted.
Although many of these structures were abandoned in the 15th Century – possibly because of conflict, drought or famine – and have since been swallowed by the jungle, some are still occupied by indigenous communities (the descendants of the earthwork-builders), while others have been subsumed into towns and ranches and a few have been protected through conservation projects.
Map showing the Llanos de Mojos savannah and the Casarabe Culture area (Credit: H Prümers/Deutsches Archäologisches Institut)
To learn more about them, I arranged an overnight stay at Chuchini, a nearby nature reserve and ecolodge on another man-made loma. At Loma Suárez's dock, I met guide Efrem Hinojosa – whose parents founded Chuchini half a century ago – and boarded a motorboat for a short journey north along the Ibare River.
"My parents created the [Chuchini] reserve in 1973 after they learned about the area's archaeological and environmental significance," said Hinojosa, as we cruised past lurking camains, their prehistoric snouts poking above the surface of the river.
After 15 minutes, we turned into a narrow channel slicing through the dense green riverbank. Lined with reeds and spindly trees, it was also an ancient earthwork, a canal built 1,000 years ago or more, explained Hinojosa. Shortly afterwards, we emerged into a shimmering lagoon overlooked by a squat green hill ringed with rainforest and patrolled by a pair of yapping dogs.
The name 'Chuchini' means 'Den of the Jaguar', one of around 100 mammal species you find here
Hinojosa's wife Miriam showed me around the loma, which was far larger than the one occupied by the Suárez mausoleum. The centre of the flat, grassy summit was home to the couple's ecolodge – a set of spick-and-span guest rooms, a breezy semi-open dining area, plenty of hammocks, a small playground and a football pitch – while walking trails led off into the surrounding jungle, which echoed with birdsong.
"The name 'Chuchini' means 'Den of the Jaguar', one of around 100 mammal species you find here," Miriam explained. "There are also more than 300 species of birds." More than 1,500 artefacts – notably, finely worked ceramic pots, urns and figurines produced by the earthwork-builders – have been excavated in the reserve and more are being discovered all the time (including, recently, an adult skeleton).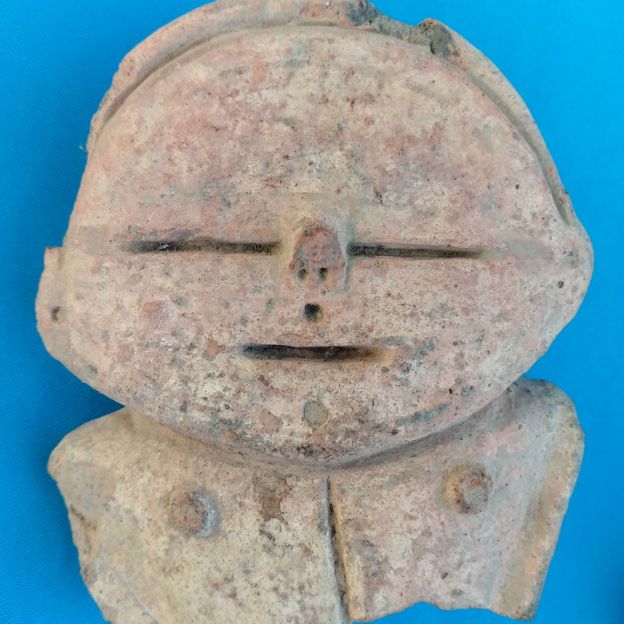 More than 1,500 artefacts, including ceramic figurines, have been excavated in Chuchini nature reserve (Credit: Chuchini)
The family's foresight protected Chuchini from the deforestation, poaching, ranching and commercial agriculture that has destroyed much of the region. Today, the reserve relies on tourism: locals come for the day to splash around in the lagoon, lounge in hammocks and wander the trails; while foreign travellers tend to stay for a few nights, often taking part in volunteer programmes. A qualified vet, Hinojosa also runs a wildlife rehabilitation centre. Among his patients that day were racoon-like coatis, several monkeys and a pair of handsome toucans, their orange-and-yellow beaks so unnaturally bright I mistook them for plastic replicas.
If you look at some of the earthworks from the air, they look like human or animal figures
After I spent the day swimming and hiking, Hinojosa took me around Chuchini's small museum, which was packed with artefacts offering a tantalising glimpse at the cultures, beliefs and rituals of the people who once lived here. There were ceramic figurines, including a one-legged man with a protruding belly button and the torso of a woman who appeared to be wearing a spotted bikini. Two large funerary urns contained human remains, including a full set of teeth. Other pots were decorated with geometric patterns that some speculate represent ancient maps. "If you look at some of the earthworks from the air, they look like human or animal figures," said Hinojosa. "Like Peru's Nazca Lines."
Although archaeological interest in the Llanos de Moxos is relatively recent – the first excavations were carried out in the 1910s, but the extent of the earthworks only started to become apparent half a century later – the region has long captivated outsiders. In his 1609 book Royal Commentaries of the Incas, Spanish-Inca historian Garcilaso de la Vega wrote about a 15th-Century Inca expedition into an Amazonian province called Musu – thought to be the Llanos de Moxos – where they found a "great many warlike people" who, while "delighted to be… friends and confederates", refused to submit to Inca rule.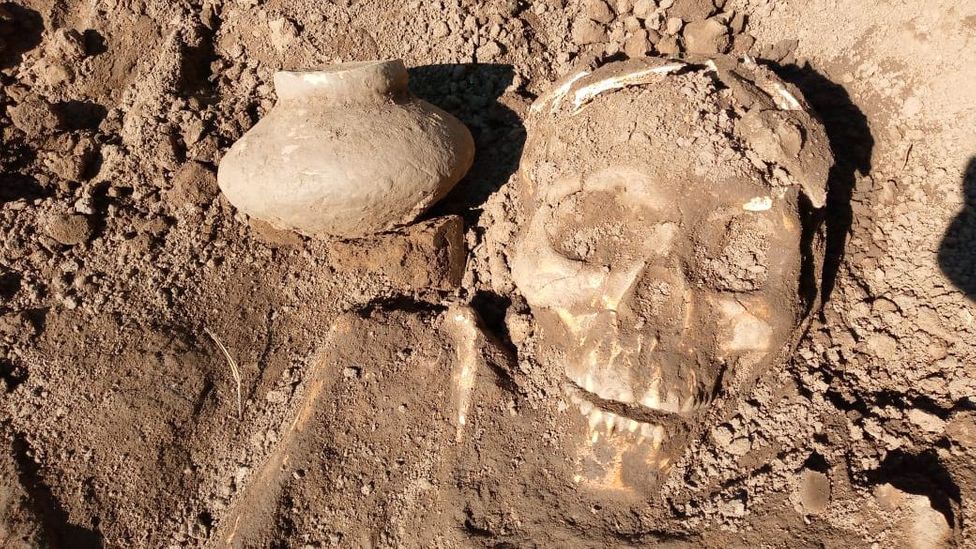 (Credit: Chuchini)
This account helped to inspire the legend of El Dorado, a city of immense wealth lost in the jungle. Over the following centuries, countless expeditions headed into the Amazon in search of these fabled riches. None succeeded, many people lost their lives and the notion that advanced societies may once have existed in this part of the world was widely dismissed.
But in recent decades, studies of the Llanos de Moxos have shifted this view. They demonstrate how these societies sculpted, tamed and exploited the landscapes around them, creating – to quote Charles C Mann, author of the book 1491: The Americas Before Columbus – "one of the largest, strangest and most ecologically rich artificial environments on the planet".
This year, cutting-edge research shed new light on the earthwork-builders. In May, a group of archaeologists and scientists from Germany and the UK published the results of a survey that used laser-scanning technology to examine the south-eastern Llanos de Moxos. In a paper in Nature, they describe a form of "low-density urbanism" that bears comparison with contemporaneous – and better known – Andean societies, such as the Tiwanaku empire, whose eponymous capital now lies in ruins near Lake Titicaca. (A strong influence on the Inca, the Tiwanaku once dominated a vast area spanning much of modern-day Bolivia, southern Peru, north-east Argentina and northern Chile.)
The team found several sites built by the Casarabe culture (circa 500-1400 CE), including a pair of large settlements: the construction process for the bigger of the two involved the movement of a staggering 570,000 cubic metres of earth – enough to fill 228 Olympic-sized swimming pools. The settlements featured stepped platforms that were topped, in some cases, with 22m-tall pyramids. They were also connected to neighbouring communities by raised causeways stretching for several kilometres and surrounded by canals, reservoirs and artificial lakes.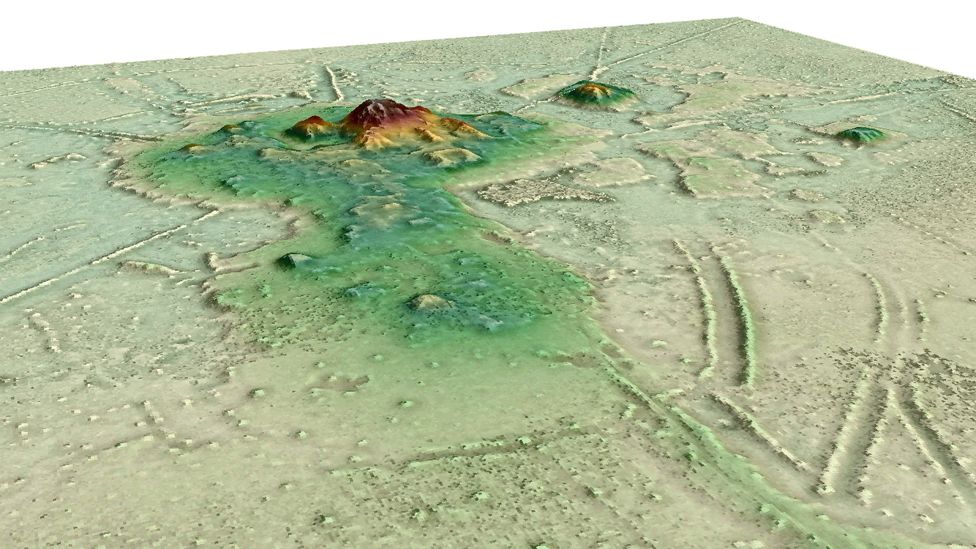 A recent lidar survey has shed new light on sites built by the Casarabe culture (Credit: H Prümers/Deutsches Archäologisches Institut)
Heiko Prümers, an archaeologist at the German Archaeological Institute and a co-author of the study, told Nature that the complexity of these sites is "mind-blowing".
The scale and sophistication of the Casarabe culture and their counterparts are even more impressive when you consider the geographic and climatic challenges in the Llanos de Moxos. They also faced extreme weather phenomena – into which I got a first-hand insight. Overnight the heat and humidity ramped up before being broken by an almighty storm so powerful it rattled the walls of my guest room. It was a surazo, said Miriam over breakfast, frigid polar winds that periodically blow up from Antarctica, plunging temperatures and resulting in great downpours.
On the boat back to Loma Suárez – numb from the cold, lashed by raindrops resembling hailstones – I felt a fresh sense of respect for the ancient societies of the Llanos de Moxos, who not only carved out an existence here, but managed to flourish.
Shafik Meghji is the author of Crossed off the Map: Travels in Bolivia
https://www.bbc.com/travel/article/20220808-the-ancient-people-who-reshaped-the-amazon
Por Shafik Meghji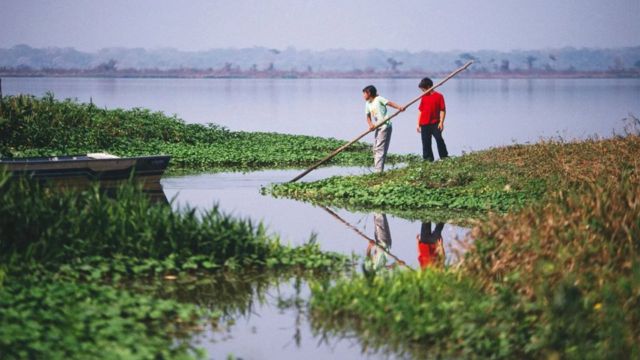 Unas ruinas poco conocidas, que datan de milenios y cubren cientos de kilómetros cuadrados, están cambiando las percepciones de la Amazonía y sus antiguos habitantes.
En un tramo de la Amazonía boliviana conocido como los Llanos de Moxos o Mojos, el bochornoso puerto de Loma Suárez toma su nombre de un notorio magnate del caucho que construyó una mansión y un rancho junto a una colina con vista al río Ibare.
Durante finales del siglo XIX y principios del XX, Nicolás Suárez y sus hermanos se encontraban entre las personas más ricas y despiadadas de Bolivia, y gobernaban una vasta franja de la cuenca del Amazonas con una violencia aterradora, según mi guía Lyliam González.
"Eran dueños de todo por aquí", dijo.
La loma ahora está coronada por un mausoleo para uno de los hermanos, Rómulo, pero yo estaba más interesado en el montículo cubierto de hierba en sí.
Alrededor de 10 metros de altura, con un camino de tierra y un grupo de árboles en la base, parecía natural y anodino.
Pero en realidad es obra del hombre, uno de los miles de movimientos de tierra construidos por sociedades antiguas notables pero poco conocidas.
No era así
El Amazonas antes de la llegada de los europeos a América en 1492 se representa comúnmente como un lugar prístino salpicado de comunidades pequeñas y sencillas.
Los Llanos de Moxos refutan elegantemente esta noción.
Con una extensión de 120.000 kilómetros cuadrados de sabana tropical, selva tropical y cursos de agua serpenteantes en el noreste de Bolivia, la región, que es aproximadamente del tamaño de Inglaterra, ha estado habitada durante 10.000 años, inicialmente por comunidades de cazadores-recolectores.
Alrededor del año 1000 a.C., comenzaron a desarrollarse sociedades más complejas.
En respuesta al entorno altamente desafiante -incluidas las dramáticas inundaciones estacionales-, construyeron redes de estructuras moviendo tierras.
Desde colinas, plataformas residenciales y ceremoniales elevadas y campos elevados para protegerse contra el aumento del nivel del agua hasta calzadas, canales, acueductos y embalses.
El pionero arqueólogo estadounidense Kenneth Lee, quien visitó la región por primera vez en la década de 1950 mientras trabajaba para Shell y terminó dedicando su vida al estudio de los movimientos de tierra (un museo en la cercana ciudad de Trinidad ahora lleva su nombre: el Museo Etnoarqueológico Kenneth Lee), estimó que hubo hasta 20.000 movimientos de tierra, y las aldeas más grandes albergaban a 2.000 personas o más.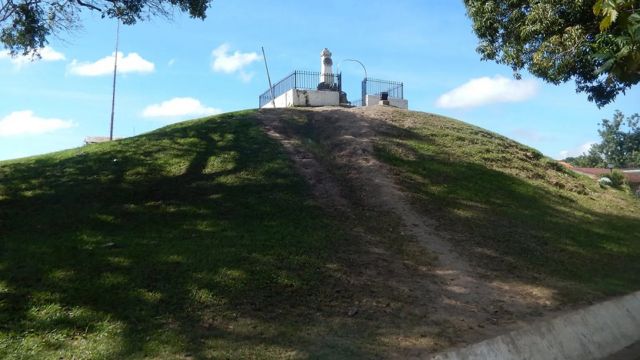 A diferencia de los incas o los mayas, no existe un nombre único para los antiguos constructores de terraplenes de los Llanos de Moxos.
Los pocos académicos que los estudian tienden a usar términos colectivos incómodos, como "prehispánico" o "precolombino", mientras que los grupos individuales, como las culturas Baures o Casarabe, han recibido nombres de pueblos o ciudades de la actualidad.
Pero en las últimas décadas, los constructores de movimientos de tierra han sido objeto de un mayor estudio por parte de los arqueólogos, cuyos hallazgos han transformado nuestra comprensión de la Amazonía.
Escultores del entorno
Investigaciones recientes sugieren que, durante más de 2.000 años, los Llanos de Moxos fueron el hogar de muchas más personas (quizás hasta un millón) y de sociedades mucho más sofisticadas de lo que se pensaba anteriormente.
A pesar de carecer de recursos vitales, como fuentes locales de piedra y animales domesticados, estas sociedades remodelaron por completo su entorno, construyendo una serie de estructuras para viviendas, agricultura, ceremonias religiosas y cementerios que les permitieron prosperar en un lugar que aún hoy puede resultar altamente desafiante.
Este trabajo de construcción implicó el "movimiento masivo de suelos, la transformación de la topografía local, el enriquecimiento del suelo y el cambio en la composición de la vegetación", según el arqueólogo de la Universidad de Pensilvania Clark L Erickson en su artículo de investigación "Amazonia: la arqueología histórica de un paisaje domesticado".
Los canales y calzadas artificiales proporcionaron enlaces de transporte y comunicación, ayudando no solo a mitigar el daño de las inundaciones estacionales, sino también a gestionar activamente los niveles de agua.
Se crearon lagunas y presas para ayudar a la pesca, mientras que otras formaciones de movimiento de tierras se diseñaron para llevar a los animales salvajes a áreas designadas de tierra seca, donde podrían ser cazados más fácilmente.
Muchas de estas estructuras fueron abandonadas en el siglo XV, posiblemente debido a conflictos, sequías o hambrunas, y desde entonces han sido tragadas por la selva.
Pero algunas todavía están ocupadas por comunidades indígenas (descendientes de aquellos constructores), mientras que otras se han subsumido en pueblos y ranchos y algunos han sido protegidos a través de proyectos de conservación.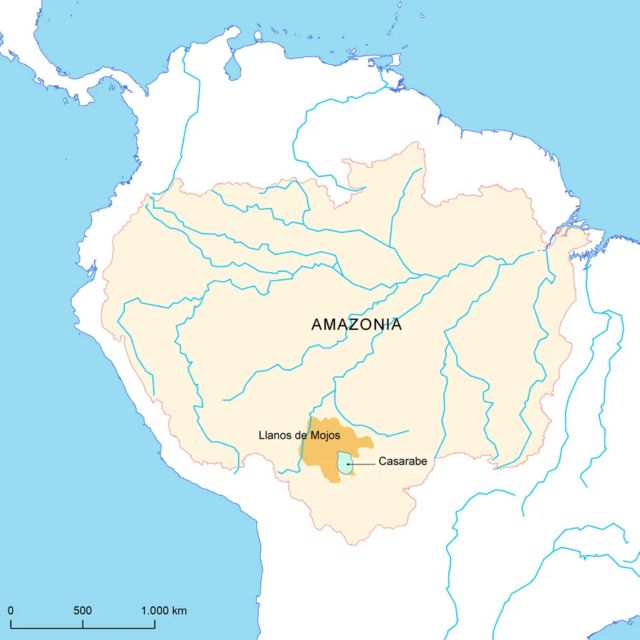 De visita
Para aprender más sobre ellos, organicé una estadía de una noche en Chuchini, una reserva natural cercana y un albergue ecológico en otra loma artificial.
En el muelle de Loma Suárez, me encontré con el guía Efrem Hinojosa, cuyos padres fundaron Chuchini hace medio siglo, y abordé una lancha para un corto viaje hacia el norte por el río Ibare.
"Mis padres crearon la reserva [de Chuchini] en 1973 después de enterarse de la importancia arqueológica y ambiental del área", dijo Hinojosa, mientras atravesábamos veíamos caimanes al acecho, con sus hocicos prehistóricos asomando por encima de la superficie del río.
Después de 15 minutos, nos metimos en un canal angosto que cortaba la densa orilla verde del río.
Rodeado de juncos y árboles larguiruchos, también fue una antigua obra de esas culturas, un canal construido hace 1.000 años o más, precisó Hinojosa.
Poco después, salimos a una laguna reluciente dominada por una colina verde y achaparrada rodeada de selva tropical y patrullada por un par de perros que ladraban.
La esposa de Hinojosa, Miriam, me mostró la loma, que era mucho más grande que la que ocupaba el mausoleo de Suárez.
El centro de la cima plana y cubierta de hierba albergaba el alojamiento ecológico de la pareja: un conjunto de habitaciones impecables, un comedor semiabierto y ventilado, muchas hamacas, un pequeño parque infantil y una cancha de fútbol.
Los senderos para caminar conducían hacia la jungla circundante, que resonaba con el canto de los pájaros.
"El nombre 'Chuchini' significa 'Cueva del Jaguar', una de las alrededor de 100 especies de mamíferos que se encuentran aquí", explicó Miriam.
"También hay más de 300 especies de aves".
Se han excavado en la reserva más de 1.500 artefactos, en particular vasijas, urnas y figurillas de cerámica finamente trabajadas, producidas por los constructores de antaño, y se descubren más todo el tiempo (incluido, recientemente, un esqueleto adulto).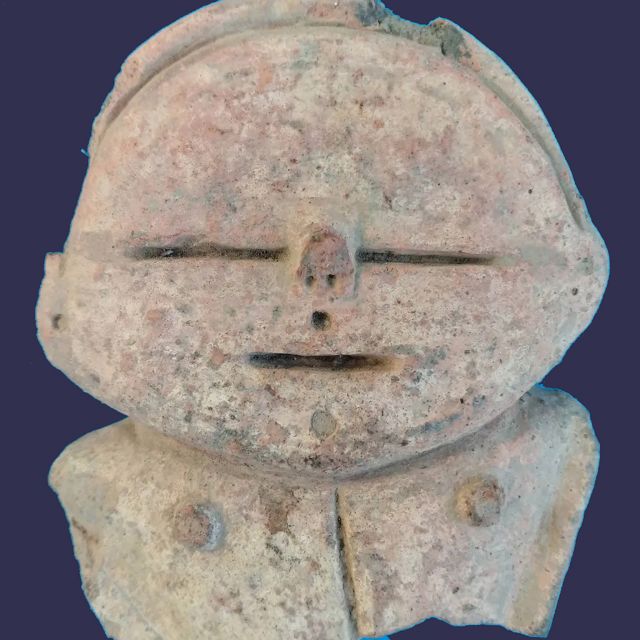 La presencia de la visionaria familia protegió a Chuchini de la deforestación, la caza furtiva, la ganadería y la agricultura comercial que ha destruido gran parte de la región.
Hoy en día, la reserva depende del turismo: los lugareños vienen a pasar el día para chapotear en la laguna, descansar en hamacas y pasear por los senderos; mientras que los viajeros extranjeros tienden a quedarse algunas noches, a menudo participando en programas de voluntariado.
Hinojosa, veterinaria cualificada, también dirige un centro de rehabilitación de animales salvajes.
Entre sus pacientes ese día había pizotes parecidos a mapaches, varios monos y un par de hermosos tucanes, sus picos anaranjados y amarillos tan extrañamente brillantes que los confundí con réplicas de plástico.
Después de pasar el día nadando y caminando, Hinojosa me llevó por el pequeño museo de Chuchini, que estaba repleto de artefactos que ofrecían una visión tentadora de las culturas, creencias y rituales de las personas que una vez vivieron aquí.
Había figurillas de cerámica, incluido un hombre con una sola pierna con un ombligo que sobresalía y el torso de una mujer que parecía llevar un bikini con puntos.
Dos grandes urnas funerarias contenían restos humanos, incluida una dentadura completa.
Otras vasijas estaban decoradas con patrones geométricos que, según algunos, representan mapas antiguos.
"Si miras algunos de los movimientos de tierra desde el aire, parecen figuras humanas o de animales", dijo Hinojosa. "Como las Líneas de Nazca de Perú".
El Dorado
Aunque el interés arqueológico en los Llanos de Moxos es relativamente reciente (las primeras excavaciones se llevaron a cabo en la década de 1910, pero la extensión de los movimientos de tierra solo comenzó a ser evidente medio siglo después), la región ha cautivado a los forasteros durante mucho tiempo.
En su libro de 1609 Comentarios Reales de los Incas, el historiador español-inca Garcilaso de la Vega escribió sobre una expedición inca del siglo XV a una provincia amazónica llamada Musu, que se cree que son los Llanos de Moxos, donde encontraron "una gran cantidad de gente guerrera" quienes, aunque estaban "encantados de ser… amigos y confederados", se negaron a someterse al dominio inca.
Este relato ayudó a inspirar la leyenda de El Dorado, una ciudad de inmensa riqueza perdida en la selva.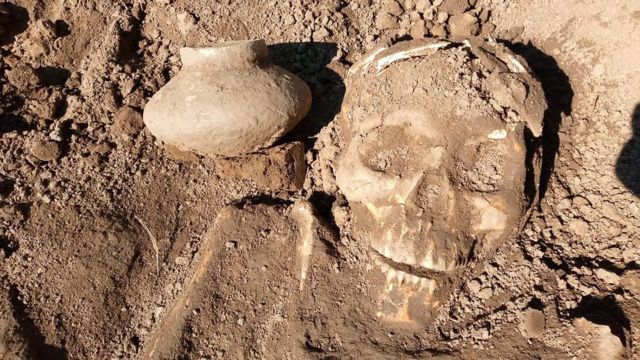 Durante los siglos siguientes, innumerables expediciones se dirigieron al Amazonas en busca de estas legendarias riquezas. Ninguno tuvo éxito, muchas personas perdieron la vida y la noción de que alguna vez existieron sociedades avanzadas en esta parte del mundo fue ampliamente descartada.
Pero en las últimas décadas, los estudios de los Llanos de Moxos han cambiado esta visión.
Demuestran cómo estas sociedades esculpieron, domesticaron y explotaron los paisajes que les rodeaban, creando, para citar al autor del libro "1491: Una nueva historia de las Americas antes de Colón", Charles C Mann, "uno de los entornos artificiales más grandes, extraños y ecológicamente ricos del planeta".
Pirámides en la Amazonía
Este año, la investigación de vanguardia arrojó nueva luz sobre esas culturas.
En mayo, un grupo de arqueólogos y científicos de Alemania y Reino Unido publicaron los resultados de un estudio que utilizó tecnología de escaneo láser para examinar el sureste de los Llanos de Moxos.
En un artículo en la revista Nature, describen una forma de "urbanismo de baja densidad" que se compara con las sociedades andinas contemporáneas y más conocidas, como el imperio de Tiwanaku, cuya capital homónima ahora se encuentra en ruinas cerca del lago Titicaca.
(Tiwanaku, una fuerte influencia sobre los incas, dominó una vasta área que abarcaba gran parte de la actual Bolivia, el sur de Perú, el noreste de Argentina y el norte de Chile).
El equipo encontró varios sitios construidos por la cultura Casarabe (alrededor de 500-1400 d.C.), incluidos un par de grandes asentamientos: el proceso de construcción del más grande de los dos implicó el movimiento de la asombrosa cantidad de 570.000 metros cúbicos de tierra, suficiente para llenar 228 piscinas de tamaño olímpico.
Los asentamientos presentaban plataformas escalonadas que estaban rematadas, en algunos casos, con pirámides de 22 metros de altura. Y estaban conectados con las comunidades vecinas por calzadas elevadas que se extendían por varios kilómetros y estaban rodeadas de canales, embalses y lagos artificiales.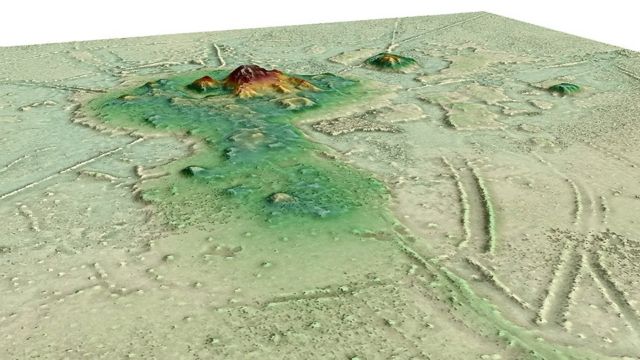 Heiko Prümers, arqueólogo del Instituto Arqueológico Alemán y coautor del estudio, le dijo a Nature que la complejidad de estos sitios es "alucinante".
La escala y sofisticación de la cultura Casarabe y sus contrapartes son aún más impresionantes cuando consideras los desafíos geográficos y climáticos en los Llanos de Moxos.
También se enfrentaron a fenómenos meteorológicos extremos, de los que tuve experiencia de primera mano.
Durante la noche, el calor y la humedad aumentaron antes de ser interrumpidos por una tormenta tan poderosa que hizo temblar las paredes de mi habitación.
Era un surazo, dijo Miriam durante el desayuno, vientos polares gélidos que periódicamente soplan desde la Antártida, bajan las temperaturas y provocan grandes aguaceros.
En el bote de regreso a Loma Suárez, entumecido por el frío, azotado por gotas de lluvia que parecían granizo, sentí un nuevo respeto por las antiguas sociedades de los Llanos de Moxos, que no solo labraron una existencia aquí, sino que lograron florecer.
* Shafik Meghji es el autor de "Crossed off the Map: Travels in Bolivia (Tachado del Mapa: Viajes en Bolivia)". Si quieres leer la historia original en BBC Travel, haz clic aquí.