Thomas Graham, The Guardian [Versión en español al final de este post, gracias]:
The case of Richard Choque, a serial rapist and murderer, who was placed only under house arrest, prompted outrage
El caso de Richard Choque, un violador y asesino en serie, que solo fue puesto bajo arresto domiciliario, provocó indignación
In parts of La Paz, every surface is papered with layers of bleached and peeling posters: adverts for events, jobs, apartments – and missing women.
In 2021, there were at least 108 femicides in Bolivia, among the highest rates in South America. Many of the perpetrators are either never caught, not punished or go free soon after.
In January, fresh outrage was prompted by the case of Richard Choque, a serial rapist and murderer who was given house arrest and then continued to commit crimes. The wave of fury prompted by the scandal has since driven Bolivia's feminist collectives to spectacular measures in an effort to force government action against femicides – and the corrupt justice system that allows them.
It started with perhaps the biggest feminist protest seen in El Alto, the one-time satellite city that now flows into La Paz. The march began outside Choque's house in El Alto and culminated at the courts of justice, where activists covered the walls with graffiti, red paint and the names of unpunished rapists and murderers.
"We wanted to redirect the discourse," said María Galindo, founder of Mujeres Creando, a feminist collective in La Paz. "For it not to be a discourse of victimhood, nor a tabloid nor a police discourse. Because what Richard Choque shows is that the central problem is state corruption. This man was a prisoner, and yet he went free."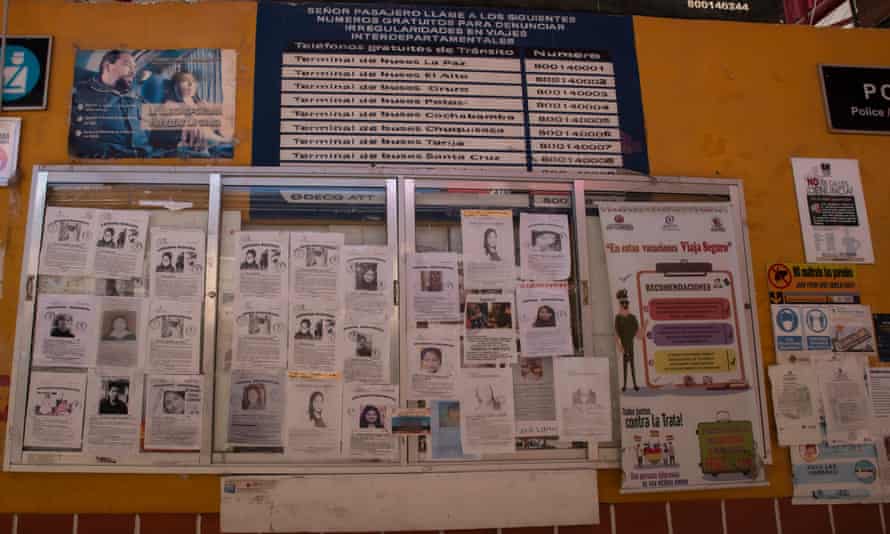 Galindo has since proved the sharp point of the pressure campaign on the government.
She took to barging into state institutions and putting civil servants on the spot, livestreamed on social media. The one-liners she whipped them with went viral on TikTok. Then she teased a run to be Bolivia's ombudsman – before tearing her application up in front of the cameras, in a typically flamboyant outfit of fishnet leggings, black eyeshadow and irreverent takes on patriotic symbols, not least a giant crown capped with an Andean condor.
Meanwhile, Mujeres Creando catalogued ignored reports of gender violence and investigated San Pedro prison, where Choque ought to have been held. They found a system of corruption, where inmates bought privileges including house arrest.
In response, the government set up a commission to re-evaluate cases like Choque's, which, though extreme, was not unique. Twenty-one others released to house arrest inappropriately have since been reincarcerated, while another 50 arrest warrants have been issued. Eighteen judges are facing criminal proceedings and more than 300 of their cases are being re-evaluated.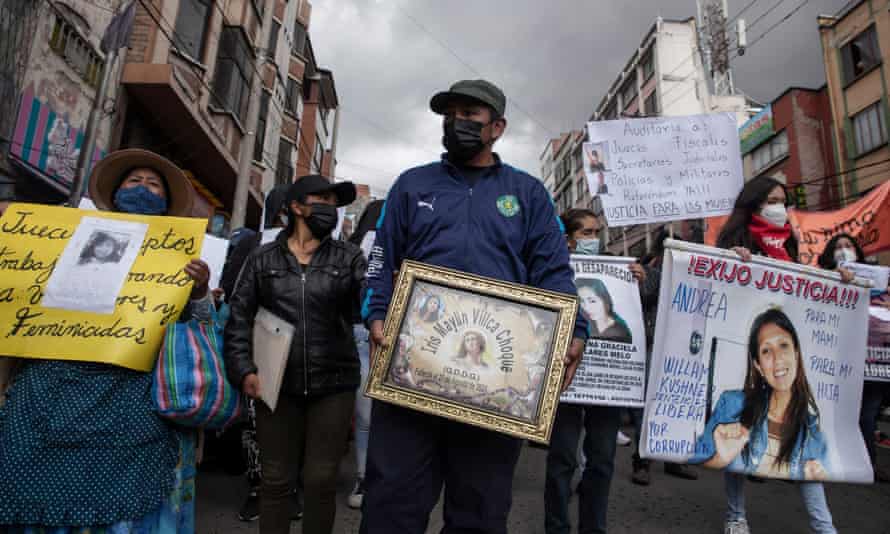 Such numbers come as no surprise to activists in La Paz and El Alto where gender violence has been accentuated by two factors, said writer Quya Reyn. First, the absence of the state, which creates insecurity. And second, the fact that the city draws migrants – many of them young women – from across Bolivia's western highlands.
These women are vulnerable to abuse. "If you go to [the centre], you'll find posters looking for nannies, looking for women to work in restaurants," said Reyna. "And they are always looking for women – only women."
"You see this with Richard Choque," Reyna added. "He would go on Facebook and say that he could offer work. These young women were murdered looking for work."
In 2013, the government introduced Law 348, which, among other things, made femicide a crime punishable by 30 years in prison – Bolivia's maximum sentence.
The law was welcomed as progressive legislation at the time, and Adriana Guzmán, a feminist activist based in El Alto, believes the text remains generally sound – the problem is implementation.
First, there is a lack of resources. "Right now, there aren't enough judges, there aren't enough prosecutors, there aren't enough investigators."
Then there's corruption, as demonstrated by the case of Choque. "The entire justice system is corrupt – not just with regard to crimes against women." Guzmán notes that this discriminates most against the poor.
There is some scepticism that the government's commission will address these root problems.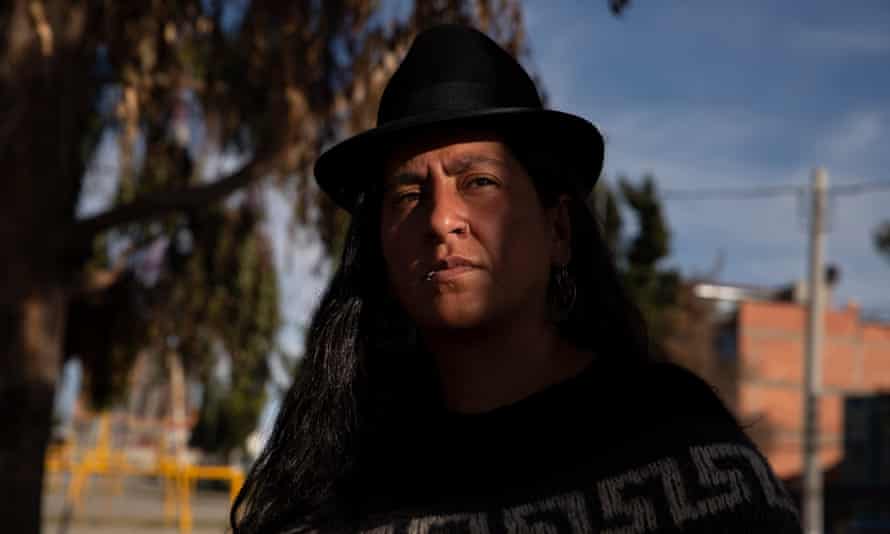 Galindo, for one, views the commission as an attempt to deflate their pressure campaign. "It's for the media. It's a commission that serves to make declarations, not effective policies."
Meanwhile Guzmán says that it was limited from the start, since it is only reviewing a fraction of gender violence cases. "For it to really be a historic commission, and not a ridiculous one – because it is ridiculous that the state has created a commission to return those to prison who should already be there – the commission needs to finish with a proposal to reform justice and the state."
Among Bolivia's feminists there are varying views on how that sort of reform will be achieved.
"The system has to be changed with huge social pressure," said Galindo. "And we're building a movement to achieve that." She believes the campaign Mujeres Creando has led over the last months has strengthened their social legitimacy: "No one can buy us. We are incorruptible."
But Guzmán is sceptical that this movement reaches much beyond the urban middle classes. And the true forces in Bolivia, says Guzmán, are the campesino and Indigenous organisations. "Within them, feminism isn't a thing. There are lots of prejudices against feminism."
In El Alto, meanwhile, Reyna pointed to the lack of feminists in politics pushing for reform. She believes change will come when a new, diverse generation of women enter government and shape it from within.
"I don't want to fight the state," said Reyna. "I want to be the state."
https://www.theguardian.com/global-development/2022/jun/28/bolivia-femicide-violence-feminists
El caso de Richard Choque, un violador y asesino en serie, que solo fue puesto bajo arresto domiciliario, provocó indignación
En partes de La Paz, cada superficie está empapelada con capas de carteles blanqueados y descascarados: anuncios de eventos, trabajos, apartamentos y mujeres desaparecidas.
En 2021 hubo al menos 108 feminicidios en Bolivia, entre las tasas más altas de Sudamérica. Muchos de los perpetradores nunca son atrapados, no son castigados o quedan libres poco después.
En enero, se desató una nueva indignación por el caso de Richard Choque, un violador y asesino en serie que recibió arresto domiciliario y luego continuó delinquiendo. Desde entonces, la ola de furia provocada por el escándalo ha llevado a los colectivos feministas de Bolivia a tomar medidas espectaculares en un esfuerzo por forzar la acción del gobierno contra los feminicidios y el corrupto sistema de justicia que los permite.
Comenzó con quizás la mayor protesta feminista vista en El Alto, la antigua ciudad satélite que ahora desemboca en La Paz. La marcha comenzó afuera de la casa de Choque en El Alto y culminó en los tribunales de justicia, donde los activistas cubrieron las paredes con grafitis, pintura roja y los nombres de violadores y asesinos impunes.
"Queríamos redirigir el discurso", dijo María Galindo, fundadora de Mujeres Creando, un colectivo feminista en La Paz. "Que no sea un discurso de victimismo, ni de tabloide, ni policial. Porque lo que demuestra Richard Choque es que el problema central es la corrupción estatal. Este hombre era un prisionero y, sin embargo, salió libre".
Desde entonces, Galindo ha demostrado ser el punto álgido de la campaña de presión sobre el gobierno.
Se dedicó a irrumpir en las instituciones estatales y poner a los funcionarios públicos en el lugar, transmitido en vivo en las redes sociales. Las frases ingeniosas con las que los azotó se volvieron virales en TikTok. Luego se burló de una candidatura para ser la defensora del pueblo de Bolivia, antes de romper su solicitud frente a las cámaras, con un atuendo típicamente extravagante de mallas de rejilla, sombra de ojos negra y versiones irreverentes de símbolos patrióticos, entre ellos una corona gigante coronada con un cóndor andino.
Mientras tanto, Mujeres Creando catalogó denuncias ignoradas por violencia de género e investigó el penal de San Pedro, donde debería estar recluido Choque. Encontraron un sistema de corrupción, donde los reclusos compraban privilegios, incluido el arresto domiciliario.
En respuesta, el gobierno creó una comisión para reevaluar casos como el de Choque, que, aunque extremo, no fue el único. Desde entonces, otras 21 personas puestas en arresto domiciliario de manera inapropiada han sido reencarceladas, mientras que otras 50 órdenes de arresto han sido emitidas. Dieciocho jueces enfrentan procesos penales y más de 300 de sus casos están siendo reevaluados.
Estas cifras no sorprenden a los activistas de La Paz y El Alto, donde la violencia de género se ha acentuado por dos factores, dijo la escritora Quya Reyn. Primero, la ausencia del Estado, que genera inseguridad. Y en segundo lugar, el hecho de que la ciudad atrae a migrantes, muchos de ellos mujeres jóvenes, de todo el altiplano occidental de Bolivia.
Estas mujeres son vulnerables al abuso. "Si vas [al centro], encontrarás carteles buscando niñeras, buscando mujeres para trabajar en restaurantes", dijo Reyna. "Y siempre están buscando mujeres, solo mujeres".
"Ves esto con Richard Choque", agregó Reyna. "Entraba en Facebook y decía que podía ofrecer trabajo. Estas jóvenes fueron asesinadas buscando trabajo".
En 2013, el gobierno introdujo la Ley 348 que, entre otras cosas, convertía el feminicidio en un delito punible con 30 años de prisión, la pena máxima de Bolivia.
La ley fue bien recibida como legislación progresista en ese momento, y Adriana Guzmán, una activista feminista con sede en El Alto, cree que el texto sigue siendo sólido en general: el problema es la implementación.
En primer lugar, hay una falta de recursos. "En este momento, no hay suficientes jueces, no hay suficientes fiscales, no hay suficientes investigadores".
Luego está la corrupción, como lo demuestra el caso de Choque. "Todo el sistema de justicia es corrupto, no solo en lo que respecta a los delitos contra las mujeres". Guzmán señala que esto discrimina más a los pobres.
Existe cierto escepticismo de que la comisión del gobierno aborde estos problemas de raíz.
Galindo, por su parte, ve la comisión como un intento de desinflar su campaña de presión. "Es para los medios. Es una comisión que sirve para hacer declaraciones, no políticas efectivas".
Mientras tanto, Guzmán dice que fue limitado desde el principio, ya que solo está revisando una fracción de los casos de violencia de género. "Para que realmente sea una comisión histórica, y no ridícula -porque es ridículo que el Estado haya creado una comisión para devolver a prisión a los que ya deberían estar- la comisión tiene que terminar con una propuesta de reforma de la justicia y el estado."
Entre las feministas de Bolivia hay diferentes puntos de vista sobre cómo se logrará ese tipo de reforma.
"Hay que cambiar el sistema con una gran presión social", dijo Galindo. "Y estamos construyendo un movimiento para lograrlo". Ella cree que la campaña que Mujeres Creando ha liderado en los últimos meses ha fortalecido su legitimidad social: "Nadie nos puede comprar. Somos incorruptibles".
Pero Guzmán se muestra escéptica de que este movimiento llegue mucho más allá de las clases medias urbanas. Y las verdaderas fuerzas en Bolivia, dice Guzmán, son las organizaciones campesinas e indígenas. "Dentro de ellas, el feminismo no es una cosa. Hay muchos prejuicios contra el feminismo".
En El Alto, mientras tanto, Reyna señaló la falta de feministas en la política que presionen por la reforma. Ella cree que el cambio vendrá cuando una nueva generación diversa de mujeres ingrese al gobierno y lo moldee desde adentro.
"No quiero pelear contra el estado", dijo Reyna. "Quiero ser el estado".