WILDLIFE CONSERVATION SOCIETY, EurekAlert!: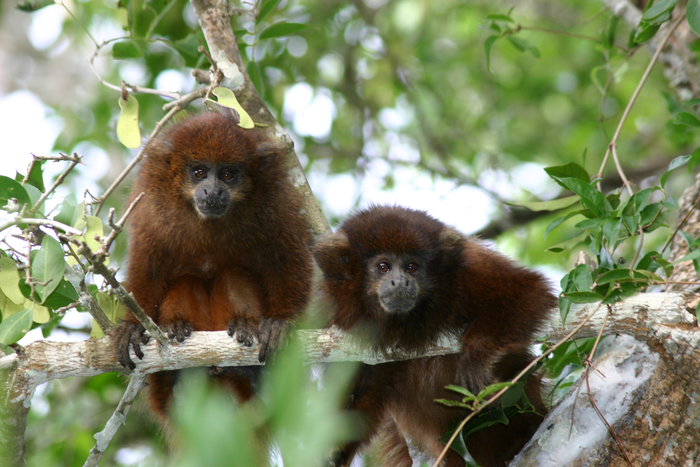 Mono raro se adapta a hábitat fragmentado haciendo dieta y reduciendo actividad
El mono titi de Olalla cambia a "alimentos alternativos" y se resguarda en tiempos de escasez
Un equipo de científicos de la Sociedad de Conservación de la Vida Silvestre (WCS) y la Universidad de Oxford Brookes descubrió que una rara especie de mono en Bolivia se ha adaptado a vivir en un bosque fragmentado haciendo dieta y moviéndose menos durante los tiempos de escasez.
Al publicar sus resultados en el International Journal of Primatology, el equipo dice que el mono tití de Olalla (Plecturocebus olallae) sigue una estrategia de minimización del área de energía que puede permitirle habitar un entorno de sabana forestal en la parte suroeste de los Llanos de Moxos. el humedal más grande de la Amazonía.
El equipo observó un cambio en la dieta de las frutas durante la estación seca hacia alimentos alternativos como semillas, líquenes y hongos. Además, los monos redujeron el movimiento en lugar de expandir el comportamiento de rango para buscar frutas y otros alimentos de mayor calidad.
Sin embargo, los autores dicen que la deforestación y una mayor fragmentación en el rango de estos primates endémicos y en peligro crítico deben abordarse, ya que representan amenazas significativas para las poblaciones severamente restringidas.
Dijo Rob Wallace, Director del Programa del Entorno del Gran Madidi-Tambopata de WCS y coautor del estudio: "El estudio ilustra la relevancia de comprender la flexibilidad ecológica de los primates en respuesta a las reducciones de alimentos para el desarrollo de acciones de conservación, especialmente a la luz del aumento de la degradación y pérdida de bosques en la región de estudio".
En diciembre de 2021, WCS Bolivia ganó el Premio Nacional de Ciencias de la Biodiversidad por su trabajo durante las últimas dos décadas estudiando y desarrollando acciones de conservación para los monos tití endémicos en el Gran Entorno Madidi-Tambopata. En 2020, WCS inició un segundo programa a escala del entorno en los Llanos de Moxos de Beni.
Rare monkey adapts to fragmented habitat by dieting and reducing activity
Olalla's titi monkey switches to "alternative foods" and hunkers down in lean times
A team of scientists with the Wildlife Conservation Society (WCS) and Oxford Brookes University found that a rare species of monkey in Bolivia has adapted to living in a fragmented forest by dieting and moving less during lean times.
Publishing their results in the International Journal of Primatology, the team say that Olalla's titi monkey (Plecturocebus olallae), follows an energy–area minimizing strategy that may enable it to inhabit a forest-savanna landscape in the southwestern portion of the Llanos de Moxos – the largest wetland in the Amazon.
The team observed a shift in diet away from fruits during the dry season toward alternative foods such as seeds, lichens, and fungi. In addition, the monkeys reduced movement instead of expanding ranging behavior to look for fruits and other higher quality foods.
Nevertheless, the authors say that deforestation and further fragmentation in the range of these endemic and Critically Endangered primates must be addressed, as they represent significant threats to the severely range-restricted populations.
Said Rob Wallace, Director of WCS's Greater Madidi-Tambopata Landscape Program, and a co-author of the study: "The study illustrates the relevance of understanding primate ecological flexibility in response to food reductions to the development of conservation actions, especially in the light of increasing forest degradation and loss in the study region."
In December 2021, WCS Bolivia won the National Biodiversity Science Prize for its work over the last two decades studying and developing conservation actions for the endemic titi monkeys in the Greater Madidi-Tambopata Landscape. In 2020, WCS began a second landscape-scale program in the Llanos de Moxos of Beni.