Helena Horton, The Guardian:
Leaves of species grown at Kew Gardens can reach up to three metres in the wild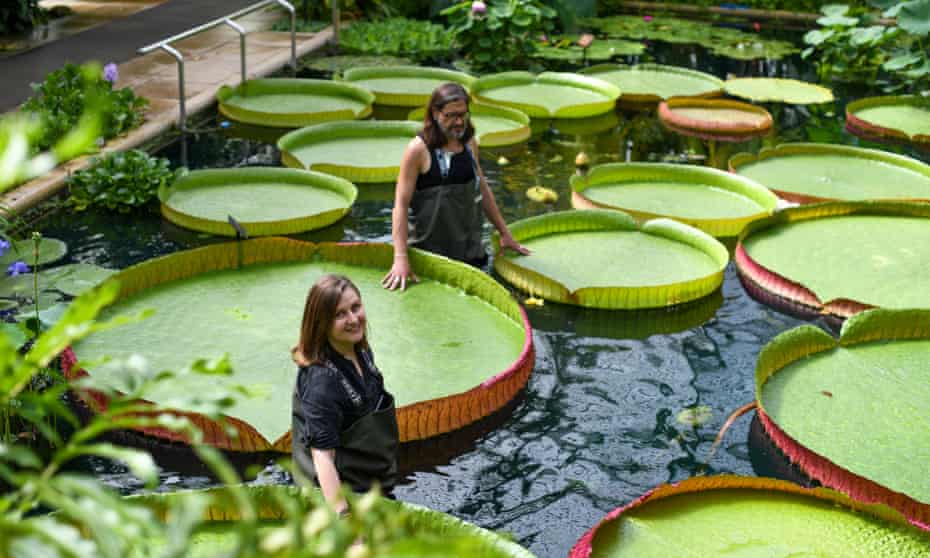 A giant waterlily grown at Kew Gardens has been named as new to science, in the first discovery of its type in more than a century.
Scientists at the south-west London garden suspected for decades there could be a third species of giant waterlily and worked with researchers in its native home in Bolivia to see if their thesis was correct.
In 2016, Bolivian institutions Santa Cruz de la Sierra Botanic Garden and La Rinconada Gardens donated a collection of giant waterlily seeds from the suspected third species. These were germinated and grown at Kew, so it could be grown side-by-side with the other two species. Scientists also studied the DNA of the three plants, and found they were distinctly different.
The three species in the genus are Victoria amazonica, cruziana and boliviana, named after Queen Victoria. The results, published in the journal Frontiers in Plant Science, suggest that the new species is most closely related to Victoria cruziana, and that they diverged about a million years ago.
Natalia Przelomska, a scientist at Kew who worked on the project, said: "In the face of a fast rate of biodiversity loss, describing new species is a task of fundamental importance; we hope that our multidisciplinary framework might inspire other researchers who are seeking approaches to rapidly and robustly identify new species."
With leaves growing up to three metres in the wild, it is also the largest giant waterlily on the planet. The striking lily has flowers which turn from white to pink, and bears spiny petioles, the stalk which attaches the leaf to the stem. Naturally found in the aquatic ecosystems of Llanos de Moxos, the current record for the largest plant of the species is held by La Rinconada Gardens in Bolivia, where leaves reached 3.2 metres.
Specimens of this large aquatic plant have been sitting in the herbarium at Kew for 177 years, and in the national herbarium of Bolivia for 34 years, but it was commonly thought to be one of the other two species.
Scientists have named it Victoria boliviana, in honour of its South American home. There is a gap in our knowledge of giant waterlilies as there are very few specimens of the original plants used to classify and name species in the Victorian era. This could be because giant waterlilies are difficult to collect from the wild.
Kew's scientific and botanical research horticulturist Carlos Magdalena said the discovery is the biggest achievement of his 20-year career at Kew.
He added: "Ever since I first saw a picture of this plant online in 2006, I was convinced it was a new species. Horticulturists know their plants closely; we are often able to recognise them at a glimpse.
"It was clear to me that this plant did not quite fit the description of either of the known Victoria species and therefore it had to be a third. For almost two decades, I have been scrutinising every single picture of wild Victoria waterlilies over the internet, a luxury that a botanist from the 18th, 19th and most of the 20th century didn't have."
The specimen from Bolivia used to describe the new species was collected in 1988 by Dr Stephan G Beck, professor emeritus at the National Herbarium of Bolivia, who thought it was Victoria cruziana.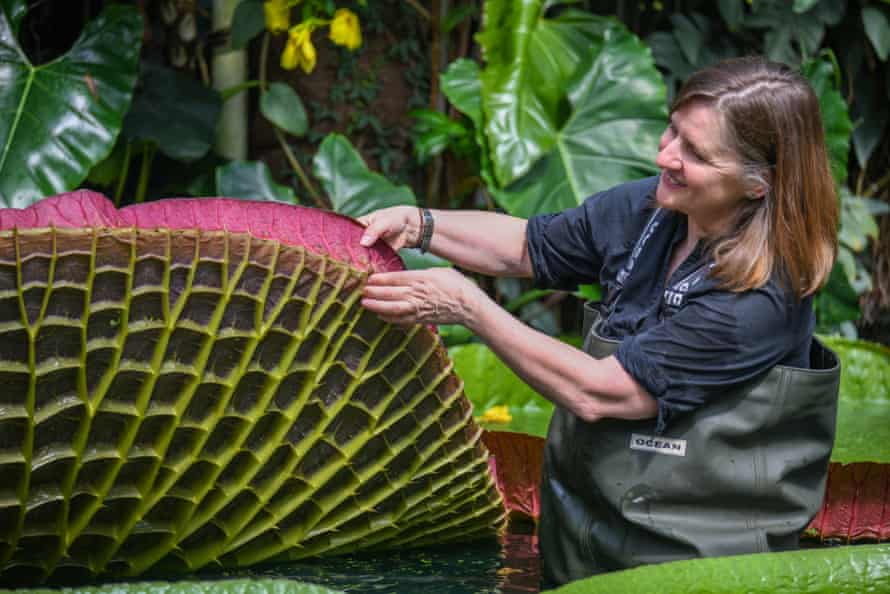 He said: "When the National Herbarium of Bolivia was born in 1984, there were very few scientific collections for Bolivia and many places to study, but I focused my interest on an area in the Llanos de Moxos. For several years I had the opportunity to collect aquatic plants in flooded areas of the Yacuma River, and obviously longed to see the Reina Victoria which the locals told me about.
"However, it took me years to find this tremendous plant. Finally, in March 1988 after sailing over two hours up the Yacuma River looking for tributaries with several huge leaves and some flowers, I collected and preserved them in the National Herbarium of Bolivia, which turned out to be a specimen of Victoria boliviana, now the type specimen. It was a great find and one I will always remember."
The plant can be seen now in the waterlily house and at the Princess of Wales conservatory at Kew Gardens. Kew is the only place in the world where you can see the three described species of Victoria together side by side.
Giant waterlilies – the wonder of the Victorian age
The waterlily house at Kew Gardens opened in 1852 and was built to house the giant plants discovered by explorers in the Amazon basin.
The giant waterlily Victoria amazonica drew crowds who marvelled at its huge circular leaves, strong enough to support the weight of a child.
A race to present the first giant waterlily flower to Queen Victoria was had among botanists, after Kew Gardens tried for a decade to cultivate the seeds. Six of these were successfully germinated, with some retained and the rest sent to Syon House in London and Chatsworth House in Derbyshire.
Despite astonishing the western world, the plant was well known to the Indigenous people of the Amazon, who used it for food and medicine.
https://www.theguardian.com/environment/2022/jul/04/third-species-of-giant-waterlily-discovered-at-kew-gardens
Las hojas de las especies cultivadas en Kew Gardens pueden alcanzar hasta tres metros en estado salvaje
[Ver las fotos en la columna anterior, subtítulos en ambos idiomas]
Un nenúfar gigante que crece en Kew Gardens ha sido nombrado nuevo para la ciencia, en el primer descubrimiento de este tipo en más de un siglo.
Los científicos del jardín del suroeste de Londres sospecharon durante décadas que podría haber una tercera especie de nenúfar gigante y trabajaron con investigadores en su hogar natal en Bolivia para ver si su tesis era correcta.
En 2016, las instituciones bolivianas Jardín Botánico de Santa Cruz de la Sierra y Jardines La Rinconada donaron una colección de semillas de nenúfares gigantes de la tercera especie sospechosa. Estos se germinaron y cultivaron en Kew, por lo que se podían cultivar junto con las otras dos especies. Los científicos también estudiaron el ADN de las tres plantas y descubrieron que eran claramente diferentes.
Las tres especies del género son Victoria amazonica, cruziana y boliviana, nombradas así por la reina Victoria. Los resultados, publicados en la revista Frontiers in Plant Science, sugieren que la nueva especie está más estrechamente relacionada con Victoria cruziana, y que divergieron hace aproximadamente un millón de años.
Natalia Przelomska, científica de Kew que trabajó en el proyecto, dijo: "Ante la rápida pérdida de biodiversidad, describir nuevas especies es una tarea de fundamental importancia; Esperamos que nuestro marco multidisciplinario pueda inspirar a otros investigadores que buscan enfoques para identificar nuevas especies de manera rápida y sólida".
Con hojas que crecen hasta tres metros en la naturaleza, también es el nenúfar gigante más grande del planeta. El llamativo lirio tiene flores que cambian de blanco a rosa y tiene pecíolos espinosos, el tallo que une la hoja al tallo. Presente naturalmente en los ecosistemas acuáticos de los Llanos de Moxos, el récord actual de la planta más grande de la especie lo ostenta el Jardín La Rinconada en Bolivia, donde las hojas alcanzaron los 3,2 metros.
Los especímenes de esta gran planta acuática han estado en el herbario de Kew durante 177 años y en el herbario nacional de Bolivia durante 34 años, pero comúnmente se pensaba que era una de las otras dos especies.
Los científicos la han llamado Victoria boliviana, en honor a su hogar sudamericano. Hay una brecha en nuestro conocimiento de los nenúfares gigantes, ya que hay muy pocos especímenes de las plantas originales utilizadas para clasificar y nombrar especies en la época victoriana. Esto podría deberse a que los nenúfares gigantes son difíciles de recolectar en la naturaleza.
El horticultor de investigación científica y botánica de Kew, Carlos Magdalena, dijo que el descubrimiento es el mayor logro de sus 20 años de carrera en Kew.
Agregó: "Desde que vi por primera vez una imagen de esta planta en línea en 2006, estaba convencido de que era una nueva especie. Los horticultores conocen de cerca sus plantas; a menudo somos capaces de reconocerlos de un vistazo.
"Estaba claro para mí que esta planta no se ajustaba del todo a la descripción de ninguna de las especies conocidas de Victoria y, por lo tanto, tenía que ser una tercera. Durante casi dos décadas, he estado examinando cada imagen de los nenúfares salvajes de Victoria en Internet, un lujo que un botánico de los siglos XVIII, XIX y la mayor parte del XX no tuvo".
El espécimen de Bolivia utilizado para describir la nueva especie fue recolectado en 1988 por el Dr. Stephan G Beck, profesor emérito del Herbario Nacional de Bolivia, quien pensó que se trataba de Victoria cruziana.
Dijo: "Cuando nació el Herbario Nacional de Bolivia en 1984, había muy pocas colecciones científicas para Bolivia y muchos lugares para estudiar, pero enfoqué mi interés en un área en los Llanos de Moxos. Durante varios años tuve la oportunidad de recolectar plantas acuáticas en áreas inundadas del río Yacuma, y ​​obviamente anhelaba ver la Reina Victoria de la que me hablaron los lugareños.
"Sin embargo, me tomó años encontrar esta tremenda planta. Finalmente, en marzo de 1988 después de navegar durante dos horas por el río Yacuma en busca de afluentes con varias hojas enormes y algunas flores, las recolecté y conservé en el Herbario Nacional de Bolivia, que resultó ser un ejemplar de Victoria boliviana, ahora la espécimen tipo. Fue un gran descubrimiento y uno que siempre recordaré".
La planta se puede ver ahora en la casa de los nenúfares y en el conservatorio Princess of Wales en Kew Gardens. Kew es el único lugar del mundo donde se pueden ver las tres especies descritas de Victoria juntas, una al lado de la otra.
Nenúfares gigantes: la maravilla de la época victoriana
La casa de los nenúfares en Kew Gardens se inauguró en 1852 y fue construida para albergar las plantas gigantes descubiertas por los exploradores en la cuenca del Amazonas.
El nenúfar gigante Victoria amazonica atrajo a multitudes que se maravillaron con sus enormes hojas circulares, lo suficientemente fuertes como para soportar el peso de un niño.
Entre los botánicos hubo una carrera para presentar la primera flor de nenúfar gigante a la reina Victoria, después de que Kew Gardens intentara durante una década cultivar las semillas. Seis de estos germinaron con éxito, algunos se conservaron y el resto se envió a Syon House en Londres y Chatsworth House en Derbyshire.
A pesar de asombrar al mundo occidental, la planta era bien conocida por los pueblos indígenas del Amazonas, quienes la usaban como alimento y medicina.