Juan Jose Toro, Los Tiempos
The first vaccination
In the days before and after the founding of Bolivia, Antonio José de Sucre was a tremendously busy man. His voluminous correspondence, greater than Bolívar's at that time, shows that he was the one who carried the greatest weight in the organization of the country. Among his multiple occupations, a striking fact stands out for times of pandemic, such as the present: he ordered a vaccination.
Even against the will of Bolívar, the Marshal of Ayacucho made it possible for the deputies from the provinces of Charcas to meet in Sucre to deliberate on their fate, since they had not decided whether they would remain dependent on Buenos Aires or submit to the Peru. As we all know, the assembly of those deputies decided to found a new country, "a sovereign and independent State of all nations, both of the old and the new world", which would bear the name of the Liberator, a tribute more than enough to bow to their favour.
Bolívar not only accepted the emergence of the new State, but also began to work hard for its organization, but most of the tasks in this regard were entrusted to Sucre. And the documents show that Sucre, in turn, delegated some of those tasks to men like William Miller.
But, although he delegated many tasks, Sucre worked hard. On August 4, 1825 alone, he issued 13 letters, an amount that was not exactly the highest in a single day. Most of his occupations were economic. Since the royalist Pedro Antonio de Olañeta had sacked Potosí in time to flee, Sucre was unable to use the resources he expected to cover the Colombian army's transportation, salary, and lodging expenses, and had to arrange tribute payments for that purpose. Among his other concerns was the intention of Salta to take Tarija by force and the foundation of science and arts colleges.
In the midst of all these occupations, a circular issued on August 27 draws attention, because it is practically a vaccination order.
As can be seen from its text, the circular was issued to the presidents, or prefects, of four of the five departments of the new state. It did not include La Paz, probably because the command of that territory had not been fully decided, since it had been entrusted to José Ruiz de Sorzano, not as president, but as political governor. Another reason for the exclusion was that the circular was issued precisely in La Paz, so the immunization could be carried out directly, without the need for written instructions.
By 1825, vaccines had not yet become popular, since they had not been experimented for the first time for even 30 years. That is why it is surprising that Sucre has obtained "a little fluid" whose "inoculation and propagation" was expressly ordered. Until that year, diseases represented high mortality rates and many were known as plagues. For the year, it was the first, or at least the first vaccination attempt in our history.
La primera vacunación
En los días previos y posteriores a la fundación de Bolivia, Antonio José de Sucre era un hombre tremendamente ocupado. Su voluminosa correspondencia, mayor que la de Bolívar en aquel tiempo, demuestra que quien llevó el mayor peso en la organización del país fue él. Entre sus múltiples ocupaciones destaca un hecho llamativo para tiempos de pandemia, como el presente: ordenó una vacunación.
Aun en contra de la voluntad de Bolívar, el Mariscal de Ayacucho posibilitó que los diputados de las provincias de Charcas se reunieran en Sucre para deliberar sobre su destino, ya que no habían decidido si seguirían bajo la dependencia de Buenos Aires o bien se someterían al Perú. Como todos sabemos, la asamblea de esos diputados decidió fundar un nuevo país, "un Estado soberano é independiente de todas las naciones, tanto del viejo como del nuevo mundo", que llevaría el nombre del Libertador, homenaje más que suficiente para inclinarlo a su favor.
Bolívar no sólo aceptó el surgimiento del nuevo Estado, sino que se puso a trabajar arduamente para su organización, pero la mayoría de las tareas en ese sentido fueron encomendadas a Sucre. Y los documentos demuestran que, a su vez, Sucre delegó algunas de esas tareas a hombres como William Miller.
Pero, aunque delegaba muchas tareas, Sucre trabajaba duro. Tan sólo el 4 de agosto de 1825 emitió 13 cartas, una cantidad que no fue precisamente la más alta en un solo día. La mayoría de sus ocupaciones eran económicas. Como el realista Pedro Antonio de Olañeta había saqueado Potosí a tiempo de huir, Sucre no pudo utilizar los recursos que esperaba para cubrir los gastos de transporte, sueldos y estadía del ejército colombiano y tuvo que disponer pagos en forma de tributos para ese fin. Entre sus otras preocupaciones estaba la intención de Salta de tomar Tarija por la fuerza y la fundación de colegios de ciencias y artes.
En medio de todas esas ocupaciones, una circular emitida el 27 de agosto llama la atención, porque es, prácticamente una orden de vacunación.
Como se puede ver en su texto, el circular fue emitido para los presidentes, o prefectos, de cuatro de los cinco departamentos del nuevo Estado. No incluyó al de La Paz probablemente porque el mando de ese territorio no estaba del todo decidido, pues había sido encomendado a José Ruiz de Sorzano, pero no como presidente, sino como gobernador político. Otra de las razones de la exclusión puso ser que la circular fue emitida precisamente en La Paz, así que la inmunización pudo ser ejecutada de manera directa, sin mediar instrucción escrita.
Para 1825, las vacunas todavía no se habían popularizado, pues no llevaban ni 30 años de haberse experimentado por primera vez. Por eso sorprende que Sucre haya conseguido "un poco de fluido" cuya "inoculación y propagación" fue ordenada de manera expresa. Hasta aquel año, las enfermedades representaban altas tasas de mortalidad y muchas eran conocidas como pestes. Por el año, se trató de la primera, o por lo menos el primer intento de vacunación en nuestra historia.
https://www.lostiempos.com/actualidad/opinion/20220815/columna/primera-vacunacion
los estragos de la viruela en Chuquisaca (Foto 1).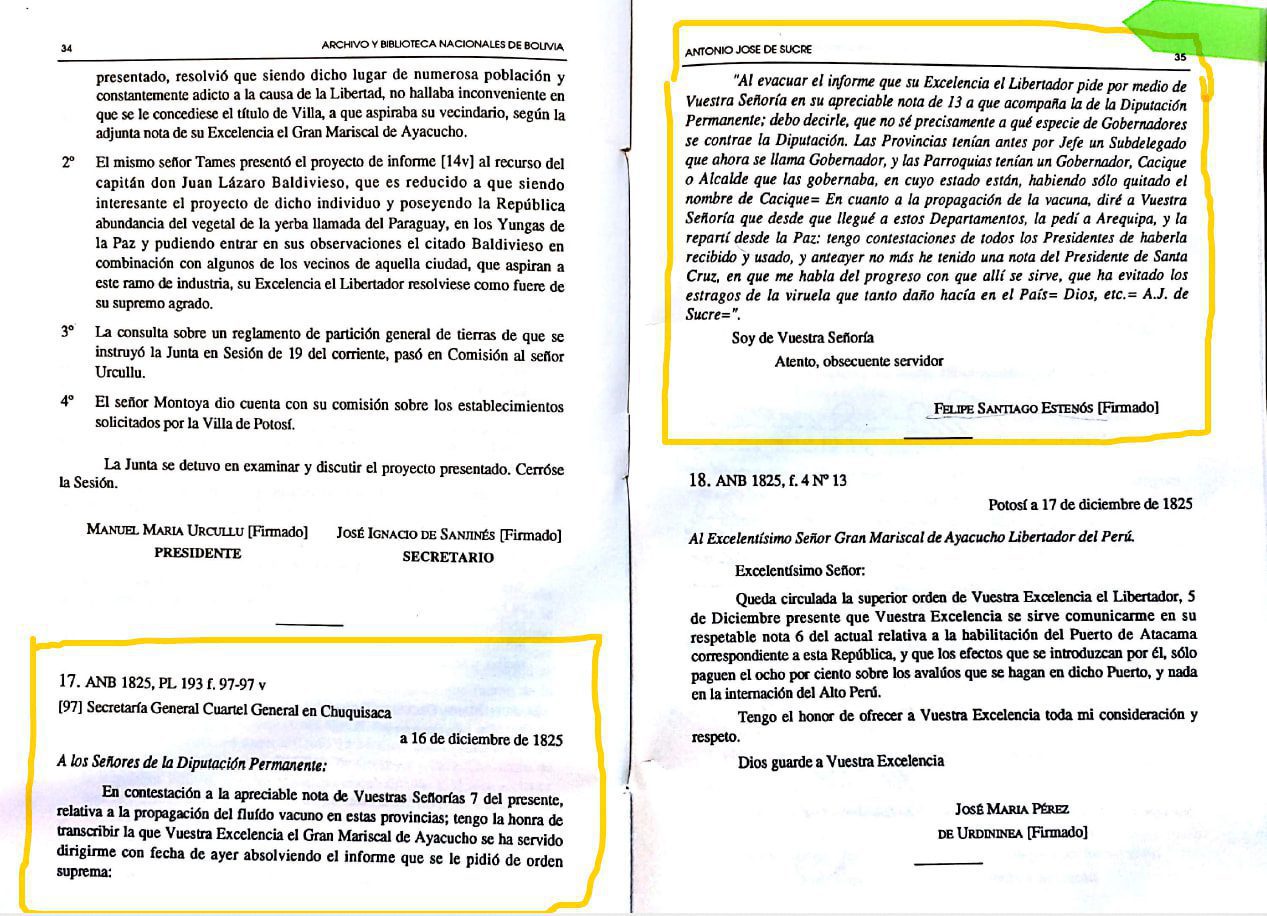 The ravages of smallpox in Chuquisaca, (Photo 1)