Reuters, ABC.net.au:
Bolivian protesters burn cars, clash with police after governor arrested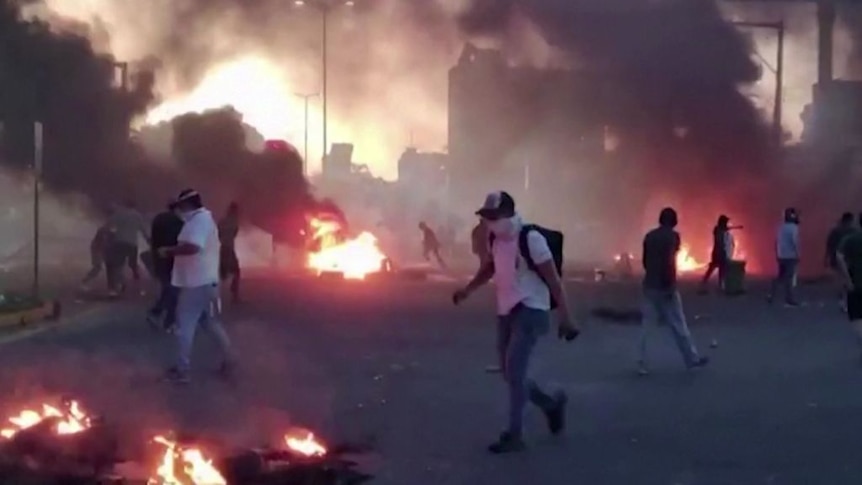 Protesters in Bolivia's Santa Cruz, a relatively wealthy farming region, have attacked buildings, burned cars and blocked highways as part of a 24-hour strike on Friday following the arrest of the regional governor, a right-wing opposition leader.
Key points:
The protests in Santa Cruz followed the arrest of Governor Luis Fernando Camacho
Prosecutors are seeking pre-trial detention of Mr Camacho in connection to the 2019 political unrest
Mr Camacho's team said the government fallout was "fraud"
As night fell, protesters in parts of the provincial capital torched cars and tires and hurled fireworks toward police, who used tear gas to try to disperse the crowds.
Pedro Vaca, Special Rapporteur for Freedom of Expression for the Inter-American Commission on Human Rights (IACHR), said in a post on Twitter he was receiving reports of "severe attacks" on the media, attributed to police deployments.
"I call on the authorities to give public instructions to their agents on the duty to guarantee freedoms of press, peaceful assembly and association," he said.
During the day, largely peaceful groups had protested around the city by blocking roads with tires, rocks and flags strung across streets as blockades.
The protests are the latest face-off between Santa Cruz, led by Governor Luis Fernando Camacho, and leftist President Luis Arce's government.
Mr Camacho was detained on Wednesday on a charge of "terrorism" for his alleged involvement in 2019 political unrest that saw then-President Evo Morales flee the country.
He was sentenced to four months of pre-trial detention late on Thursday and was transferred to a maximum security prison early Friday morning.
Mr Camacho has maintained his innocence and called his arrest and transport to La Paz, the country's capital, a kidnapping.
Prosecutors denied the arrest was a kidnapping or politically motivated.
The governor became a face for the right-wing opposition movement as a civic leader who called for Mr Morales to step down in 2019.
On Twitter on Friday morning, Mr Camacho's communications team said the fallout from the contested election "was not a coup, it was fraud".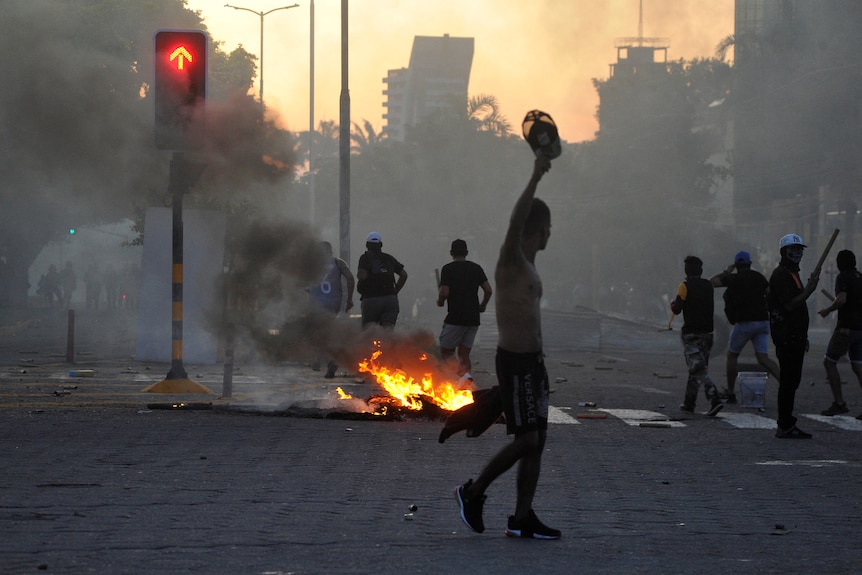 Mr Camacho also led weeks-long protests snarling trade from the region through last month, calling for the government to move up a census date that would likely give Santa Cruz more political representation and tax revenues.
The government has not said how it will respond to Friday's roadblocks, though some military forces were spread throughout Santa Cruz late Thursday.
In the last round of protests, government-allied groups violently clashed with Camacho supporters.
Meanwhile, some companies said they would pause sales while Mr Camacho remained in jail.
Reuters
https://www.abc.net.au/news/2022-12-31/bolivia-protesters-burn-cars-clash-with-police/101819326
Manifestantes bolivianos queman autos y chocan con policías tras arresto de gobernador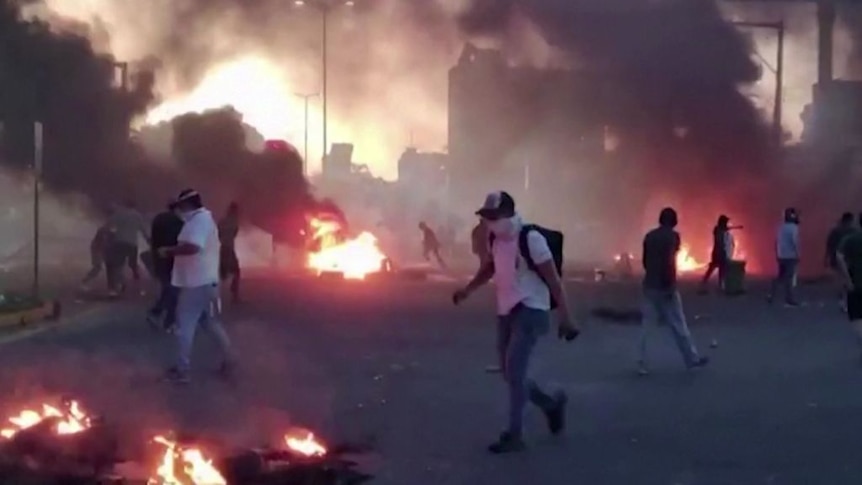 Los manifestantes en Santa Cruz de Bolivia, una región agrícola relativamente rica, atacaron edificios, quemaron autos y bloquearon carreteras como parte de una huelga de 24 horas el viernes tras el arresto del gobernador regional, un líder opositor de derecha.
Puntos clave:
Las protestas en Santa Cruz tras la detención del gobernador Luis Fernando Camacho
Los fiscales buscan la detención preventiva del Sr. Camacho en relación con los disturbios políticos de 2019
El equipo de Camacho dijo que las consecuencias del gobierno fueron un "fraude"
Al caer la noche, los manifestantes en partes de la capital departamental incendiaron autos y llantas y lanzaron fuegos artificiales contra la policía, que usó gases lacrimógenos para tratar de dispersar a la multitud.
Pedro Vaca, Relator Especial para la Libertad de Expresión de la Comisión Interamericana de Derechos Humanos (CIDH), dijo en una publicación en Twitter que estaba recibiendo informes de "graves ataques" a los medios, atribuidos a despliegues policiales.
"Hago un llamado a las autoridades para que den instrucciones públicas a sus agentes sobre el deber de garantizar las libertades de prensa, reunión pacífica y asociación", dijo.
Durante el día, grupos en su mayoría pacíficos protestaron en la ciudad bloqueando carreteras con neumáticos, piedras y banderas colgadas en las calles como bloqueos.
Las protestas son el enfrentamiento más reciente entre Santa Cruz, encabezada por el gobernador Luis Fernando Camacho, y el gobierno de izquierda del presidente Luis Arce.
Camacho fue detenido el miércoles por un cargo de "terrorismo" por su presunta participación en los disturbios políticos de 2019 que provocaron la huida del país del entonces presidente Evo Morales.
Fue sentenciado a cuatro meses de prisión preventiva el jueves por la noche y fue trasladado a una prisión de máxima seguridad el viernes por la mañana.
Camacho ha mantenido su inocencia y calificó su arresto y transporte a La Paz, la capital del país, como un secuestro.
Los fiscales negaron que el arresto fuera un secuestro o que tuviera motivaciones políticas.
El gobernador se convirtió en un rostro para el movimiento de oposición de derecha como un líder cívico que pidió la renuncia de Morales en 2019.
En Twitter el viernes por la mañana, el equipo de comunicaciones de Camacho dijo que las consecuencias de las elecciones impugnadas "no fueron un golpe, fue un fraude".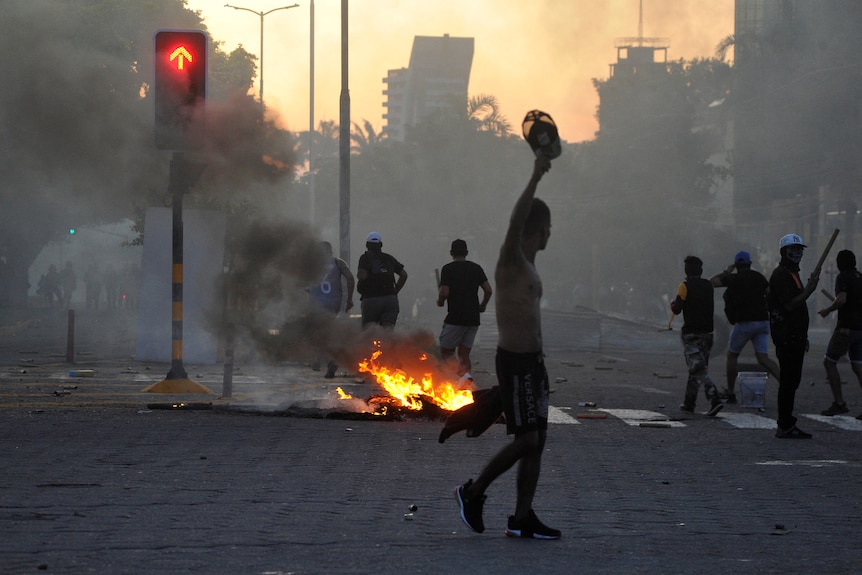 Camacho también encabezó protestas de semanas de duración limitando el comercio de la región hasta el mes pasado, pidiendo al gobierno que adelantara la fecha del censo que probablemente le daría a Santa Cruz más representación política e ingresos fiscales.
El gobierno no ha dicho cómo responderá a los bloqueos de carreteras del viernes, aunque algunas fuerzas militares se desplegaron por Santa Cruz el jueves por la noche.
En la última ronda de protestas, grupos aliados al gobierno se enfrentaron violentamente con simpatizantes de Camacho.
Mientras tanto, algunas empresas dijeron que pondrían en pausa las ventas mientras Camacho permaneciera en la cárcel.
Reuters