RYAN HOGG, Business Insider: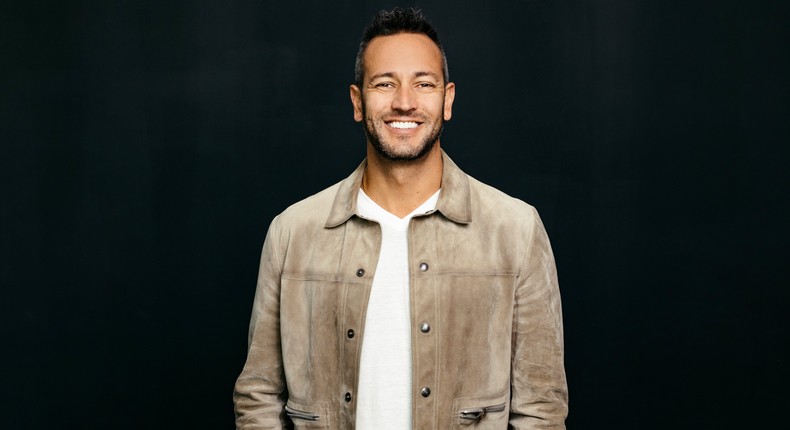 Here's how I went from waiting tables for Brad Pitt and Oprah to selling homes to Lady Gaga and LeBron James
He worked his way up from being a busboy by networking and finding a mentor who was like him. Arana found success during a housing market crash by upping the marketing of his personal brand.
Santiago Ar ana waited on some of Hollywood's biggest stars in between English lessons and real estate training.
Just a few years later, he was selling multi-million dollar homes to their friends – all during a brutal housing market downturn.
Arana is the tenth-highest selling agent in the US, moving property worth $581 million last year, according to Real Trends.
He told Insider that constant networking, finding a mentor, and increasing marketing during a downturn were key to his success, which includes handling several multimillion dollar listings.
Optimize your time, and get a mentor
Arana arrived in the US from Bolivia at the age of 22 and worked as a busboy by day while learning English at night. He moved up to become a waiter after three months and serving the rich and famous expanded his horizons.
"I was waiting on Brad Pitt, Oprah, Kevin Costner," Arana said. He was amazed that customers would routinely spend $3,000 on dinner, and began to think how he could join them.
Arana was constantly networking while working in restaurants. Even when Arana was waiting tables, he was obsessively calculating how he could earn the most money in a set amount of time.
"I was always thinking: what's a better restaurant, what's a more expensive restaurant? What's a restaurant where I'm going to meet the most interesting people?"
That led Arana to the legendary Orangerie, where he decided to get into real estate.
After bouncing between restaurant shifts and door knocking to convince people to sell their home with him, Arana said he needed to find someone "like" him as a mentor. He found Rodrigo Iglesias, an Argentinian luxury realtor, who he kept calling for three months before getting a meeting. Arana said this partnership allowed him to sell homes way above his reputation.
How to get ahead in a housing downturn
The housing market appears to be cooling down, with a correction expected. Nearly one in five sellers have been forced to lower their asking price, while luxury homes sales have dropped by a fifth. With housing affordability it its lowest level in years, it is a hard time to be an agent.
Yet it was during the 2007/8 housing market crash that Arana began to find success. "I was dead focused on the door that was closed that I wasn't looking on the 10 windows, doors, garage doors that were open," he said.
Arana began knocking on doors in wealthy neighborhoods, ran open houses on weekends, and put his signs out at 6am to benefit from "free marketing."
He said: "By putting my signs out there during a crisis while everyone else went quiet, all of a sudden people were saying 'who is this Santiago?'"
Arana said his moves while other realtors shut down made sellers take notice. He began selling homes to people were trying to shift them before they were repossessed by banks.
"That was the defining time when my career took off," Arana said. By 2012, he made his first $1 million in commissions.
"When people gained the confidence to buy and sell, I all of a sudden became a household name in LA. So as the market picked up, my phone exploded, and I had more listings than I knew what to do with."
The boom led Arana to sell homes to stars he might have waited on years earlier, including Lebron James, Lady Gaga, and Larry David, and marketing nine-figure homes.
Arana said his approach would work again if things turn ugly again.
"There are things you can't control like the economy, the stock market, a pandemic. And there are things you can control: what am I going to eat, can I go an door knock, can I pick up the phone," he said. "And you just focus and keep doing that, then magic is going to happen."
RYAN HOGG
https://africa.businessinsider.com/news/heres-how-i-went-from-waiting-tables-for-brad-pitt-and-oprah-to-selling-homes-to-lady/gmst11e
Así es como pasé de servir mesas para Brad Pitt y Oprah a vender casas a Lady Gaga y LeBron James
Se abrió camino desde ser un ayudante de camarero mediante la creación de redes y encontrando un mentor que era como él. Arana encontró el éxito durante un desplome del mercado inmobiliario al aumentar el marketing de su marca personal.
Santiago Arana atendió a algunas de las estrellas más grandes de Hollywood entre lecciones de inglés y capacitación en bienes raíces.
Solo unos años más tarde, estaba vendiendo casas multimillonarias a sus amigos, todo durante una brutal recesión del mercado inmobiliario.
Arana es el décimo agente de ventas más alto en los EE. UU., moviendo propiedades por valor de $ 581 millones el año pasado, según Real Trends.
Le dijo a Insider que la creación de redes constantes, la búsqueda de un mentor y el aumento del marketing durante una recesión fueron clave para su éxito, que incluye el manejo de varios listados multimillonarios.
Optimiza tu tiempo y consigue un mentor
Arana llegó a los EE. UU. desde Bolivia a la edad de 22 años y trabajaba como ayudante de camarero durante el día mientras aprendía inglés por la noche. Pasó a ser mesero después de tres meses y servir a los ricos y famosos amplió sus horizontes.
"Atendia como mesero a Brad Pitt, Oprah, Kevin Costner", dijo Arana. Estaba asombrado de que los clientes gastaran rutinariamente $3,000 en la cena y comenzó a pensar cómo podría unirse a ellos.
Arana estaba constantemente haciendo contactos mientras trabajaba en restaurantes. Incluso cuando Arana estaba sirviendo mesas, calculaba obsesivamente cómo podía ganar la mayor cantidad de dinero en un período de tiempo determinado.
"Siempre estaba pensando: ¿qué es un mejor restaurante, qué es un restaurante más caro? ¿Qué es un restaurante donde voy a conocer a la gente más interesante?".
Eso llevó a Arana a la legendaria Orangerie, donde decidió incursionar en bienes raíces.
Después de alternar entre turnos de restaurante y tocar puertas para convencer a la gente de vender su casa con él, Arana dijo que necesitaba encontrar a alguien "como" él como mentor. Encontró a Rodrigo Iglesias, un corredor de bienes raíces de lujo argentino, a quien llamó durante tres meses antes de conseguir una reunión. Arana dijo que esta asociación le permitió vender casas muy por encima de su reputación.
Cómo salir adelante en una recesión de la vivienda
La casa de LeBron James, que Arana vendió al basquetbolista por 22,5 millones de dólares. [ver foto en la columna en inglés]
El mercado de la vivienda parece estar enfriándose, con una corrección esperada. Casi uno de cada cinco vendedores se ha visto obligado a reducir el precio de venta, mientras que las ventas de casas de lujo se han reducido en una quinta parte. Con la asequibilidad de la vivienda en su nivel más bajo en años, es un momento difícil para ser un agente.
Sin embargo, fue durante la caída del mercado inmobiliario de 2007/8 que Arana comenzó a tener éxito. "Estaba completamente concentrado en la puerta que estaba cerrada y no estaba mirando las 10 ventanas, puertas, puertas de garaje que estaban abiertas", dijo.
Arana comenzó a tocar puertas en barrios ricos, organizaba jornadas de puertas abiertas los fines de semana y ponía sus letreros a las 6 a.m. para beneficiarse del "mercadeo gratuito".
Él dijo: "Al poner mis letreros durante una crisis mientras todos los demás estaban callados, de repente la gente decía '¿quién es este Santiago?'".
Arana dijo que sus acciones mientras otros agentes inmobiliarios cerraron hicieron que los vendedores se dieran cuenta de él. Comenzó a vender casas a personas que intentaban cambiarlas antes de que los bancos las embargaran.
"Ese fue el momento decisivo cuando mi carrera despegó", dijo Arana. En 2012, ganó su primer millón de dólares en comisiones.
"Cuando la gente ganó la confianza para comprar y vender, de repente me convertí en un nombre familiar en Los Ángeles. Entonces, a medida que el mercado se recuperaba, mi teléfono explotó y tenía más solicitudes de lo que podía hacer".
El auge llevó a Arana a vender casas a estrellas que podría haber atendido como mesero años antes, incluidos Lebron James, Lady Gaga y Larry David, y comercializar casas de nueve cifras.
Arana dijo que su enfoque volvería a funcionar si las cosas vuelven a ponerse feas.
"Hay cosas que no puedes controlar como la economía, el mercado de valores, una pandemia. Y hay cosas que puedes controlar: qué voy a comer, puedo llamar a la puerta, puedo levantar el teléfono", él dijo. "Y solo concéntrate y sigue haciendo eso, entonces la magia sucederá".
Ryan Hogg